Working at a site full of fluids is one of many reasons you should get comfortable waterproof boots. If you are a traveler, hiker, or just love camping in the wilderness, waterproof boots might be the most reliable buddies you will need on any site.
There are so many options to get you puzzled as they claim their shoes are water-resistant and have fancy looks. These numbers make you need clarification about what you should buy or leave. 
So, worry not; I am here to solve your problem and find you the most comfortable waterproof boots. The only thing you have to do is read the article till the end. 
You'll find some fantastic shoe articles within your wallet range. 
Let's dive! 
What are the most comfortable waterproof boots in 2023? Best Picks!
The quest for comfortable waterproof boots has taken a significant leap in 2023. Having a pair of reliable waterproof work shoes that offer exceptional comfort is no longer a luxury but a necessity. 2023 presents a remarkable collection of the best waterproof work shoes that blend functionality with unparalleled comfort.
Whether you are an outdoor enthusiast or searching for a pair for your demanding work, these top picks of waterproof work shoes will help you make a good decision you won't regret!
1. Cat Footwear men's diagnostic waterproof boot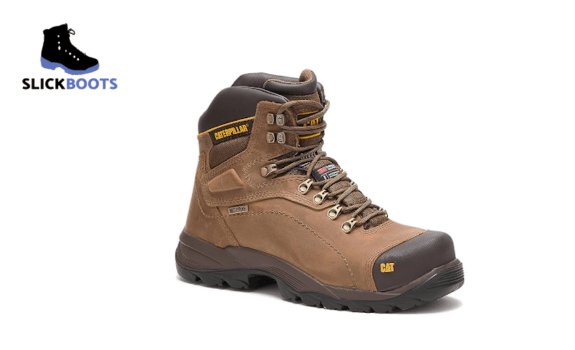 Features & benefits
The Caterpillar Diagnostic boots are the best waterproof ankle boots for walking. They provide exceptional comfort and happily withstand harsh conditions. Here are its key features:
This pair is crafted with durable leather that can handle

demanding environments.

Caterpillars

combine stability, flexibility,

and comfort to support your feet during long working hours.

Steel toes protect

your feet against impacts and compression. 

The boot's

waterproof leather upper

keeps your feet dry and shielded in wet conditions.

Nylon mesh lining

enhances

breathability

and brings overall comfort.

The

removable insoles

are

shock-absorbent

and come with Gel Technology. 

Thermal insulation keeps your feet warm

and comfortable, even in extreme conditions.

Slip-resistant rubber outsoles

reduce the risk of slips and falls on low-traction surfaces.

The boot features

antiqued lacing hardware

and a contrast tone at the toe and collar, adding a touch of style to its functionality.
Security & Reliability
This smart design, insulation, and slip-resistant outsole ensure security and trustworthiness. It enables you to navigate confidently in demanding environments. Its waterproof leather upper adds a layer of reliability, ensuring feet remain dry even in wet conditions. 
The boot's steel toes shield against potential impacts, while its Electrical Hazard Protection safeguards against open circuits. With a durable outsole, it is an oil, water, and abrasion-resistant pair that ensures longevity.
Pros
No break-in period required

Wide Toe box with enough room

Excellent rubber-covered toe box 

Solid stitching

100% comfortable
2. ROCKROOSTER Woodland Work Boots for Men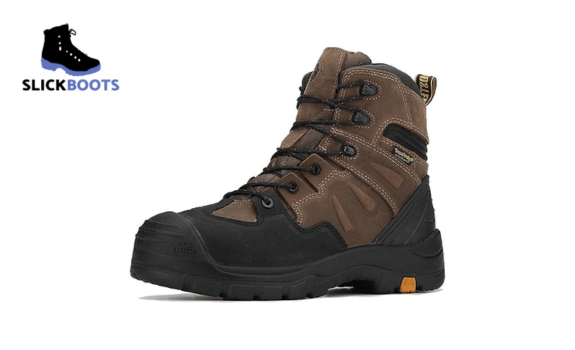 If you're looking for the best waterproof ankle boots for walking that provide ample ankle support and protection, these Rockrooster boots, with their waterproof design and premium leather, can be a great choice. 
They're made to keep your feet dry, comfortable, and supported throughout your busy day.
Features & benefits
Metal-free composite toe

makes it lightweight and convenient to wear for long hours.

Reliable Leather material

for long-lasting use.

Waterproof and breathable properties

keep your feet dry and comfortable.

Soft

bedded insoles

with anti-fatigue properties provide you with all-day support.

Snug padded

ankle design

delivers a comfortable fit.

Rubber Sole

for traction and stability.

Meet all

safety standards

.

Suitable for wet conditions due to

its waterproof membrane.

Promotes air circulation for freshness and

eliminates sweat odors.
Shock-absorbing

foot pads reduce foot fatigue.
Security & Reliability
Rockrooster boots offer extreme protection and are a reliable choice for various situations. They keep your feet dry in damp environments, as they have a specialized layer that effectively prevents water from seeping inside. 
Whether navigating rainy streets or tackling muddy terrains, you can move confidently, knowing your feet will remain completely dry. 
Its breathable membrane ensures moisture stays out and promotes air circulation within the boots. This pair protects your feet from external elements and prevents sweat buildup. Rockrooster boots are definitely a reliable choice.
Pros
100% waterproof

Warm and cozy

Incredibly secure lace system

Soft padded insoles provide extra comfort

Reasonable price
Cons
The toe cavity is smaller for feet with big toes

Size issues
3. Timberland Men's Boondock composite toe boots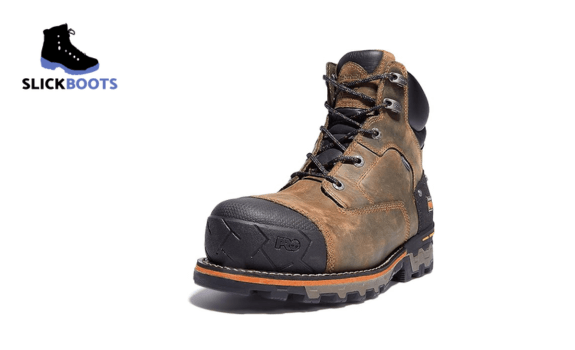 These are the most comfortable waterproof boots for walking all day. Timberland boots are like your reliable partners in harsh conditions. They're made to last, satisfy you, and give you the confidence to tackle any task.
Specifications & Features
The boots' structure uses premium waterproof leather and a waterproof membrane

. Which keeps your feet dry in wet conditions, like rain or puddles.

With

rubber toe protection

, you can resist abrasions.

A

sturdy outsole

gives you a good grip on slippery surfaces.

Shock absorbent

rubber outsole gives your feet energy to walk all day.

It is a

perfect combination

of style, sturdiness, and convenience.
Security & Reliability
Crafted from premium waterproof leather, these boots ensure your feet remain dry even in wet conditions. Their waterproof membrane secures your feet even in a hail storm. 
Its rubber toe protects your toes from hurting and guards against bruises. The robust TPU outsole, with deep lugs, provides trustworthy traction on various surfaces. Counting on this pair, you can do all your challenging tasks while staying comfortable and protected.
Pros
Real leather construction

100% comfortable

Great soles

Ample arch support 

Indestructible toe cap

Safe for many industrial work environments
Cons
Little bit heavy

Not suitable for office or formal attire
4. Wolverine Men's W04821 Buccaneer work boots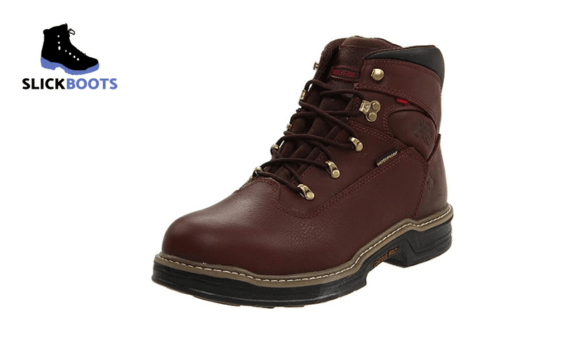 Timberland boots are designed to offer incredible flexibility. They move with your feet, adapting to your motions whether you're having a relaxed day or exploring the outdoors.
Features & benefits
Crafted with

waterproof full-grain leather

, these boots keep your feet dry even in wet conditions. 

The integrated Wolverine MultiShox® system

provides an energy boost

with every step you take.

It's like getting extra push

as you walk or move around.

These boots come with a

removable full-cushion insole

that adds extra comfort to your stride.

The

slip-resistant rubber lug outsole

grips the ground, offering stability wherever you go.

The

lightweight PU midsole

keeps the boots light and makes them durable for the long run.

With a

wave mesh lining,

these boots help manage moisture and

keep your feet feeling

fresh even during extended wear.

The boots have

shock-absorbing compression pads

for extreme comfort.
Security & Reliability
This is a secure and reliable footwear option with incredible waterproof properties. It is made of full-grain leather that is perfect for challenging weather conditions. The slip-resistant rubber outsole contributes to the boots' security. 
It offers maximum stability across various terrains. With moisture-managing mesh linings and a removable full-cushion insole, these boots prioritize comfort and reliability. This pair is a dependable choice for everyday wear and refreshing outdoor exploration.
Pros
Good quality at a low price

Leather quality is excellent

Sturdy laces

Good ankle support

Safety toe box provides adequate protection
Cons
The rigid safety toe is not comfortable but is hard

Too big in the toe box
5. Timberland PRO men's insulated waterproof industrial work boot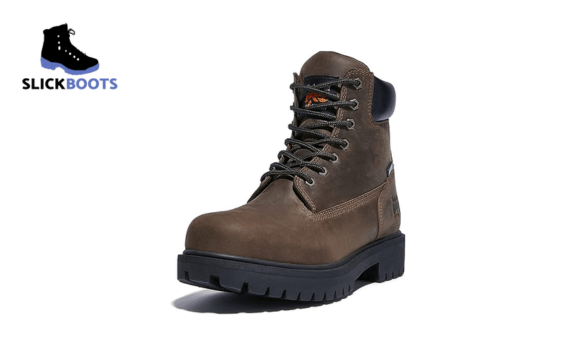 Whether working on rugged terrain or navigating a busy worksite, Timberland boots keep you going strong while maintaining your comfort. These are the best breathable, waterproof work boots.
Specifications & Features
Steel toes

are perfect for risky working sites as they guard your feet from being crushed.

With

waterproof leather uppers

, these boots keep you dry no matter the weather.

A

padded top collar

enhances comfort while moving, making those long shifts easier on your feet.

The l

ightweight blown-thermal plastic midsole

provides flexibility and cushioning.

Mesh lining

controls odor and keeps your boots fresher for longer.

The

nylon shock diffusion plate

adds support.

The dual-density rubber midsole

absorbs shock and reduces foot fatigue during long shifts.

Oil-resistant rubber outsole

provides strong traction.
Security & Reliability
With a focus on security and reliability, the Timberland Boots has a waterproof design. The seam-sealed waterproof leather uppers are durable and a barrier against moisture penetration. 
The steel safety toe provides protection, while the direct-inject construction enhances the boots' overall durability. This pair can easily withstand the rigors of demanding work environments. 
Pros
100% waterproof

Sturdy material with a longer lifespan

Multiple color options

Neat finishing
Cons
It is not extremely comfortable as it has a rigid toe area and sturdy sole.
6. Skechers Verdict Men's Boot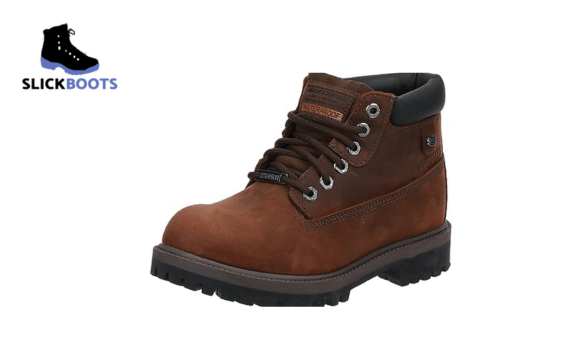 Skechers are, so far, the most comfortable waterproof boots for walking all day. Selecting Skechers means giving preference to your feet's comfort. It is a brand that I really enjoy wearing.
Specifications & Features
With

Air-Cooled Memory Foam

inside, your feet will feel like they're walking on clouds.

They're made from

unique waterproof leather

that keeps your feet dry even in rainy weather.

The boots are put together with

reinforced stitching

, making them extra durable. They won't rip or fall apart quickly.

The

collar around your ankle is padded

for extra comfort: no more rubbing and more walking without pain.

The

rugged rubber sole

has deep grooves that grip the ground well. So you

won't slip and slide,

even on slippery surfaces.

They have a

lace-up style so that

you can adjust the fitting. This also delivers your feet the

proper support.
Security & Reliability
Skechers Verdict boots provide security and reliability through their waterproof design. They ensure your feet stay dry even in wet conditions. Crafted from oiled smooth leather, these exquisite boots offer protection against rain and moisture. 
They keep your feet comfortably protected. Whether you're facing rainy weather or damp environments, Skechers are trustworthy companions for your outdoor journeys.
Pros
The most affordable shoe option with comfort and style

These boots have a plain, classic design that goes well with many outfits

Sturdy stitching

Sturdy eyelets

Long-lasting materials

Great fitting

Multiple color options
Editor's Recommendation: What's the Best Waterproof Boot?
Now that I have checked and experienced all 6 options for the most comfortable waterproof boots, I love the two options the most. First is Caterpillar diagnostic, and 2nd is Skechers Sergeant Verdict. It is hard to find one as my favorite vote.
But if I consider both comfort and style, I'll lean towards Skechers Sergeant Verdict Boots. These are the best lightweight waterproof work boots at a low price with an impressive waterproof design and cushioned support. 
Above all, their versatile style makes them a well-rounded option for various outdoor activities, including formal events.
Buyer's Guide: How can I test the comfortable waterproof boots?
Remember these tips when trying on comfortable waterproof boots to ensure they're right for you.
Proper fit
Your boots should feel tight enough and tight enough. Wiggle your toes, and ensure your feet have enough room.
Walk around
Take a stroll to see if they pinch or rub anywhere. A good shoe shouldn't cause discomfort.
Waterproof test 
If possible, ask if there's a water test area. Step into it – your boots should keep your feet dry, even when splashed.
Ankle support
Check if the boots give your ankles enough support. This is important for stability.
Flexible soles
The soles should bend a bit, making walking easier.
What features are necessary in the best zipper work boots? [Important Factors]
The best zipper work boots should have these features:
Quality zippers – Strong zippers don't snag or break easily.
Comfortable insoles – Cushioning inside the boots for all-day comfort.
Durable material – Sturdy leather or synthetic material for long-lasting wear.
Safety toes – Steel or composite toes protect your feet from heavy objects.
Gripping outsoles – Slip-resistant soles prevent accidents on slippery surfaces.
Why do you need the best waterproof work shoes?
Wet feet can cause discomfort, blisters, and even infections. Best breathable waterproof work boots keep your feet dry in wet conditions and help you focus on your tasks instead of worrying about your feet. 
Here are some reasons why having high-quality waterproof work shoes is essential:
Waterproof shoes prevent water, mud, and other liquids from seeping into the shoes, keeping your feet dry and comfortable. This is crucial to avoid discomfort, blisters, and potential skin issues that can arise from prolonged exposure to moisture.
Wet surfaces can be slippery, increasing the risk of accidents and falls. Waterproof work shoes with slip-resistant soles provide better traction on wet floors or surfaces, reducing the chances of workplace injuries.
Waterproof shoes are often designed with materials that are resistant to water damage, extending the lifespan of the footwear. This durability is essential for work environments that expose shoes to water, chemicals, or rough conditions.
Wet feet can lead to discomfort and irritation, making it harder to focus on tasks. Waterproof shoes keep your feet dry, providing a more comfortable experience throughout the workday.
Moist environments are conducive to bacterial and fungal growth, which can cause infections and unpleasant odors. Waterproof shoes prevent moisture buildup, helping to maintain foot health and hygiene.
Having dry and cozy feet, you can concentrate better on your work tasks and get 100% positive results. Uncomfortable shoes make you distract and hinder your performance.
Whenever it's rainy or wet outside, having waterproof shoes is essential for jobs that are done outdoors. These shoes stop your feet from getting wet, so you can do your work without having soggy, uncomfortable feet.
Getting perfect waterproof work shoes might cost more money at first. But they won't wear out quickly because they are built to be tough and long-lasting, they won't wear out quickly. 
This can actually save you money in the long run because you won't have to keep buying cheap shoes that wear out fast. So, spending more on good shoes is better than spending a little on wrong shoes many times.
Maintaining a professional appearance is necessary in some work sites. Clean, dry shoes contribute to a polished look, which can be important for client interactions and workplace image.
Investing in the best waterproof work shoes is a wise decision for working in wet or moist conditions. They offer protection, comfort, safety, and long-term value, making them valuable assets for personal well-being and job performance.
Is there any difference between waterproof and weatherproof boots?
Yes, there's a difference. 
Waterproof boots are designed to remove water altogether, even in heavy rain or deep puddles. They are tightly sealed to prevent any water from getting inside and keep your feet dry in all wet conditions.
Weatherproof boots offer some protection from water, but they might not keep your feet completely dry in extremely wet working situations. You can use them in rain, snow, or cold temperatures. But remember! These boots are not tightly sealed like waterproof boots.
How much do comfortable waterproof boots cost?
The price can vary. Essential waterproof boots start around $50 to $100. High-quality, durable ones with extra features could cost $200 or more. Remember, investing more often means better comfort and more prolonged use.
How can I maintain my best waterproof work shoes?
You must follow these instructions to keep your waterproof work shoes in top shape.
Clean them regularly.

Wipe off dirt and mud. Use a soft brush and mild soap if needed.

Dry them properly

when they get wet. Use air dry or leave them in the open to dry naturally after use. Avoid heat sources like direct sunlight or heaters.

Use leather conditioners.

If your boots are of high-quality leather, apply a leather conditioner to keep them supple.

Store them well.

Keep them in a cool, dry place, away from extreme temperatures.
For how much time do waterproof boots stay waterproof actually?
The waterproofing can last anywhere from 6 months to a couple of years, depending on how often you wear them and the conditions they're exposed to. Regular maintenance and reapplying waterproofing products can extend their lifespan.
Is it worth getting waterproof boots?
Absolutely, especially if you often encounter wet environments. Best lightweight waterproof work boots keep your feet dry, providing comfort and protection. They are a smart choice for anyone who values their foot health and wants reliable footwear.
FAQs – Comfortable waterproof boots
What brand of waterproof boot is most comfortable?
The comfort level depends on personal fit and preferences. Several brands are known for their quality materials and comfortable fit, including Timberland, Rockrooster, Skechers, and Cat Footwear, are known for their quality materials and comfortable fit. 
Are waterproof boots the same as rain boots?
No, they're different. Waterproof boots are designed to dry your feet in various wet conditions, including rain. Rain boots are usually taller and primarily meant to keep water out during heavy rainfall.
What are the best waterproof boots for men?
The best waterproof boots for men can vary based on individual needs. Some popular options include Timberland Earthkeepers, Wolverine, and Sketchers.
Do waterproof work boots make your feet sweat?
Waterproof work boots can trap heat and moisture, causing feet to sweat more than breathable boots. Look for boots with moisture-wicking linings and breathable materials to minimize sweat.
Why are my feet wet in waterproof boots?
There might be several reasons.
Sometimes,

moisture enters through seams or zippers

and makes you uncomfortable.

Maybe your boots'

waterproof layer got damaged.

Your feet might produce moisture that can turn into water droplets inside the boots.

If you're standing in

water

that's

deeper than the height of your boots

, water might eventually find its way inside the boots.

If you wear

socks

that absorb water or

don't wick away moisture

, your feet might feel wet even if the boots keep water out.
Which waterproof boots are good for walking on concrete for 8 hours a day?
Boots with good cushioning, arch support, and shock absorption are ideal for long hours on concrete. Brands like Skechers, Caterpillar, and Rockrooster offer options suitable for such demands.
Closing – Comfortable waterproof boots
Remember, the key to finding the perfect pair of comfortable waterproof boots lies not only in the brand but also in understanding your own preferences. 
Look for features that align with your needs – all-day wear on concrete or navigating the outdoors. Waterproof boots may sometimes trap heat and moisture, but improving materials is aimed at demolishing discomfort.
Ultimately, the quest for the most comfortable waterproof boots for walking all day is an investment in your comfort and ability to confidently cross any terrain. Whether you're tackling worksites or exploring nature's wonders, the right pair of waterproof boots will always be your loyal companions. They will keep you dry, cozy, and ready for whatever challenges come your way!
You may also be interested in: