Are you tired of coming home from work with sore feet and an achy back? If yes, it's time to find a solution to make your feet less worried.
Invest in the best orthopedic work boots and enjoy your working hours like never before. These specialized boots are more than just footwear – they're a remedy for the discomfort and challenges often accompanying long hours on your feet.
Many brands and styles are manufactured, especially for people with diabetes or aching feet with blisters. These boots are called orthopedic shoes. If you are looking for one to make your work day easy on your feet, you are at the right place.
I will tell you about the best orthopedic work boots I found for you and your child.
Let's dive!
The 7 Best Orthopedic Work Boots [Our Top Picks]
Always prioritize your comfort. Check out these 7 top orthopedic work boots. From waterproof designs to slip-resistant soles, these boots are designed to keep your feet cozy and safe, making long workdays a breeze.
1) Dunham by New Balance Cloud Mid-Cut Boots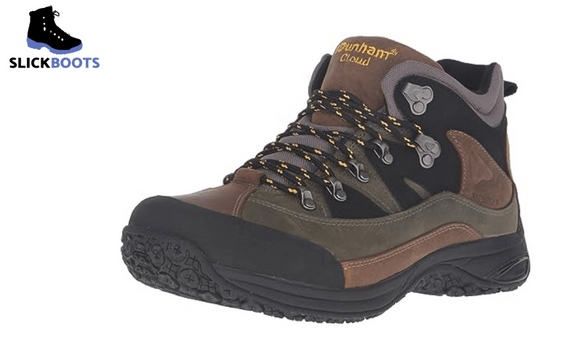 Key Features
Unisex design
Dunham Cloud mid-cut is an orthopedic composite toe work boot. They are available in beautiful colors, including masculine and feminine. You can find all the Men's and women's sizes in online stores.
Exquisite arch support
These orthopedic work boots for women and men are designed with a focus on orthopedic comfort. They present excellent arch support. By wearing these boots, you can set your body posture, which helps alleviate strain on your feet and reduce fatigue during long workdays.
Customizable comfort
These custom orthopedic work boots go the extra mile by offering removable footbeds. You can easily replace the insoles with your orthotics. And ensure personalized comfort and support tailored to your needs.
Waterproof and durable
The waterproof construction of these boots keeps your feet dry in various weather conditions. Mesh inserts are used for water drainage, which best work outdoors or in wet environments, providing comfort and protection.
Effortless adjustability
Combining a leather strap over Velcro closure and no-tie elastic laces provides a convenient and desired fit. Putting on and taking off the boots is a breeze. It saves you time and effort while maintaining a snug fit that supports your feet effectively.
Exceptional traction and shock absorption
The Cloud Mid-Cut Boot has a rubber outsole with a multi-directional grip design. This design delivers maximum traction, ensuring stability even on challenging surfaces. Additionally, the rubber sole's shock-absorbing properties enhance comfort by reducing the impact on your joints and feet.
Customer Reviews
Dunham is an orthopedic work boots for women & men and got 4.3 Stars out of 2,189 ratings. It got fabulous reviews, especially from the folks with foot injuries who greatly praised them.
Pros
Proper fit
Comfortable for feet with pain or injury.
Ample room for toes
Soft and comfy insoles
Lightweight
Best for hikes
Best quality at a decent price
Cons
It is a little smaller than the regular size compared to other brands.
2) Red Wing orthopedic work boots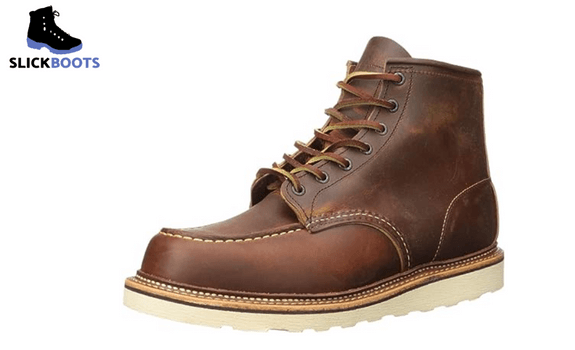 Key Features
Orthopedic comfort with timeless style
The Red Wing orthopedic work boots blend classic design with orthopedic comfort, making them an excellent choice for those seeking both style and support in their work boots. The moc toe and Traction Tred outsole create a timeless profile, ensuring stability and cushioning for all-day wear.
Water resistance and durability
These boots have a split reverse storm welt, enhancing their water resistance. This feature is vital for orthopedic work boots as it helps to keep feet dry and comfortable. It reduces the risk of discomfort or foot issues caused by prolonged exposure to moisture.
Crepe wedge foundation for support
The crepe wedge foundation of these boots offers a durable yet comfortable base, supporting orthopedic needs. This type of sole provides a cushioning effect and shock absorption, crucial for individuals who spend long hours on their feet.
Premium leather
These boots ensure high-quality materials, crafted from 100% leather with options like Oro Legacy and Copper Rough & Tough Leather. Leather is known for its ability to conform to the shape of the foot, providing personalized orthopedic support over time.
Norwegian welt construction
The Norwegian welt construction employed in these boots enhances their strength and durability. This construction method involves stitching the upper, insole, and welt together, resulting in a boot that can withstand the rigors of various work environments and provide the necessary orthopedic support throughout its lifespan.
Customer Reviews
Red Wing got 4.5 stars at the time of giving this review. They are accurately fit and comfortable according to 1,842 ratings on Amazon.
Pros
Perfect fit to all Foot shapes
Durable, rigid Leather construction
Moldable rubber footbed to go with the flow
Slip-resistant outsole
Cons
Need a break-in time
Bigger than regular shoe sizes
Pricey
3) Dr. Comfort Ranger Therapeutic Diabetic Boots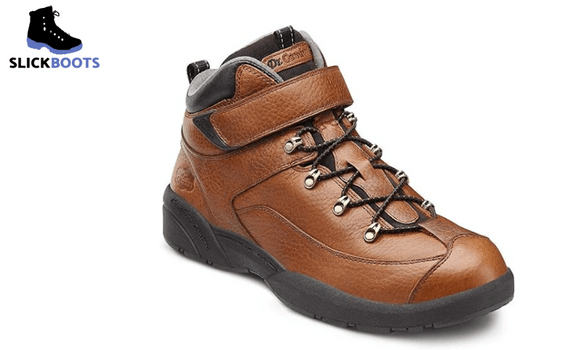 Key Features
Regarding orthopedic work boots for men, the Dr. Comfort Therapeutic Diabetic Boots stand out with their exceptional features tailored to provide comfort and support for those who most need it.
In your quest for the best orthopedic work boots, consider these five key features that set these boots apart:
Orthopedic design
The removable footbeds in the boots make them highly customizable, allowing you to use your orthotics for optimal support. Even during the first few steps, you'll notice the thoughtful design that prioritizes comfort.
Whether on a construction site or working long hours, the boots offer remarkable ease of movement with no break-in period required.
No-tie elastic laces
Time-saving and practical, the no-tie elastic lace system sets these boots apart. Getting ready for work becomes hassle-free as you slip your feet into comfort without the need to tie or untie laces. This feature streamlines your routine and ensures a secure fit every time.
Exceptional arch support
The boots' excellent arch maintains your posture and comfort throughout the day. Whether carrying heavy loads or spending hours on your feet, the arch support minimizes the risk of discomfort or strain. Your feet will thank you for the extra care provided by these boots.
High-quality leather
In the demanding environment of fieldwork, durability is a non-negotiable feature. Dr. Comfort boots boast high-quality leather that offers durability and protection against external elements like water and mud. This level of security ensures that your investment in these boots is well worth it, providing both longevity and performance.
Protective design and lightweight construction
Work boots must offer more than just comfort – they need to protect your feet from potential hazards. The protective toe box in these boots adds an extra layer of security against toe stubbing, making them ideal for rugged work environments.
Despite their protective design, these boots are surprisingly lightweight, making daily tasks less laborious and more manageable.
Customer Reviews
Out of 989 ratings, this pair got 4.2 Stars because of its comfortable wide size and premium leather at a low price.
Pros
Finest Leathers
Removable footbeds
Lightweight
Excellent arch support
Rubber soles
Excellent traction
Cons
Rubber/Elastic laces are a hurdle for some big feet guys
4) Dr. Comfort Boss Men's Therapeutic Diabetic Boots
Key Features
Here are some key features of the Dr. Comfort Boss Men's Therapeutic Diabetic Boots that highlight their importance as orthopedic steel toe work boots.
Therapeutic design
The Dr. Comfort Boss Men's Boots are made with a focus on therapeutic benefits. They are very comfortable to wear for extended amounts of time. They come with a Dr. Comfort Gel Insert, giving more support in the middle and sides to stabilize everyday tasks.
Shock resistance steel toe protection
These orthopedic steel toe work boots are made to put safety first in various situations. They are resistant to electrical shocks. Because the steel toe protects against possible crashes, they are suitable for work situations where foot safety is paramount.
Durable construction
The boots are very durable and offer excellent protection. Their rugged design is paired with an outsole resistant to oil and wear. This mix of materials is resistant to rough conditions, which makes them a good choice for outdoor activities and challenging work environments.
Removable footbed
These men's orthopedic work boots have a changeable footbed because they know people have different needs. This well-thought-out design lets people add their orthotic inserts to their shoes, giving them the best comfort and support for their needs.
Classic style
These boots stand out because of their standard yet flexible style. Classic craftsmanship and current technology come together to make an iconic look that can be worn to work or on an adventure outside. The laces, padded neck, and seamless construction add to their good looks while keeping them comfortable and valuable.
Customer Reviews
These shoes got 4.2 Stars from 61 ratings. All the reviewers claim that these boots are best fit like a glove and are especially good for diabetic feet and ulcers.
Pros
Steel toe protection
Laces for a perfect fit
Removable footbed
Shock-absorbing rubber soles
Rugged, high abrasion outsole
Lightweight
Flawless cushion for superior comfort
5) Danner 600 Vibram Hiking Boot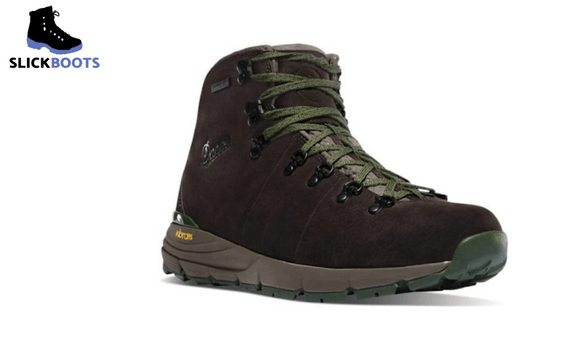 Key Features
Smart orthopedic support
The Danner has a cushioned open-cell OrthoLite heel and a nylon shank for advanced orthopedic support. Together, these parts provide the best support for the arch and heel, so you can be comfortable even if you must work long hours.
Premium Materials
These orthopedic work boots with composite toe are made in the U.S. from 100% Full-Grain Leather and show high attention to detail. The full-grain leather makes these work boots more durable and gives them a little style.
Weather-friendly performance
Danners are made to work in all kinds of weather. They are waterproofed with Danner Dry, so your feet will stay dry and comfortable all day. The shoes are waterproof, and there are two ways to tie the laces to change the fit.
Better grip and comfort
The Vibram SPE midsole, made of a rubberized EVA compound, has a unique mix of softness and durability. It makes them comfortable and supportive for a long time. The Megagrip technology in the Vibram outsole gives these boots an excellent grip on wet and dry surfaces, making them suitable for various work settings.
Stability for long wear
These orthopedic composite toe work boots design include a TPU heel frame, which makes it more supportive and stable. This is important for long work shifts. Also, carefully placed in a diamond pattern, the self-adaptive lugs on the outsole provide both a flexible and firm grip, making the shoe more stable on different surfaces.
Customer Reviews
Danner earned 4.6 Stars out of 268 reviews. All the reviews are positive and full of their traits like Danners are plain, simple, and waterproof. No water, dust, or snow can get in and ruin your feet.
Pros
Various color options are available, including black and different brown shades.
Not heavy and clunky as they look
No break-in time
Traction over all types of terrains and slippery surfaces
Rubber compound outsole for hikers
Soft and flexible insides for smooth walks on rocks
Waterproof
Cons
It is less breathable but warm
Suitable for winters, not for extreme summers
6) Merrell Jungle Moc Slip-On Orthopedic Work Boot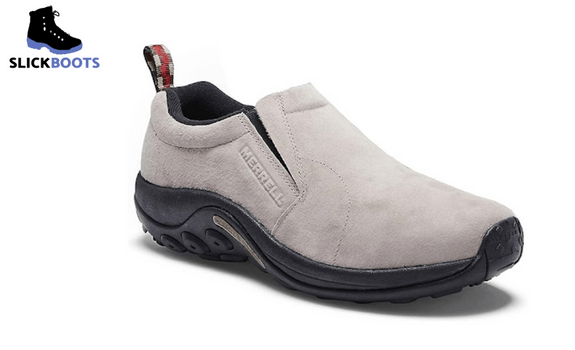 Key Features
Merrell Jungle Moc Slip-On is the best orthopedic work boots for men as no other pair can exceed its faux comfort and sustainability in rainy weather.
Unparalleled convenience
The Merrell Men's Slip-On Shoe offers an exceptional blend of comfort and convenience. Its slip-on design allows easy wearing. You can wear them without using your hands. These are particularly valuable for individuals with mobility issues or chronic foot pain.
100% Leather build
Crafted with careful attention to orthopedic comfort, these shoes feature a 100% leather construction that enhances both durability and support. The combination of nubuck leather and synthetic materials ensures long-lasting wear. This pair is ideal for those seeking reliable orthopedic work boots.
Superior traction on slippery terrains
The rubber sole of the Jungle Moc, with a deep 3mm lug depth, provides exceptional traction on various terrains, including ice, uneven ground, and wet surfaces. Thanks to its reliable protection, the shoe's exquisite membrane keeps your feet dry, even in heavy rain and downpours.
Easy On-Off Design
The entrance of the Jungle Moc has two elastic inserts that make it easier to put on and take off. This gives the shoe a tight fit and efficiency to pull on. It is the best choice for people who need the best orthopedic work boots that are easy to wear, especially if they have pain or discomfort when bending down.
All-weather wear
The Jungle Moc is created to go well in various weather conditions. It can handle many outdoor situations. Its slip-resistant tread and waterproofing make it an excellent choice for outdoor activities. It will keep you stable and comfortable on uneven ground or slippery areas.
Customer Reviews
This pair got a 4.5 Star rating out of 2,043 ratings. Folks are happy with its easy and quick slip-on style, where they don't have to worry about tying and untying. They are incredibly comfortable and go with all dress codes.
Pros
Comfortable
Available in multiple colors and sizes
Waterproof
Durable
Easy hands-free slip-on
Good traction
Cons
Gets dirty easily
Tread is first to wear down
7) Hawkwell Kids Classic Ankle Boot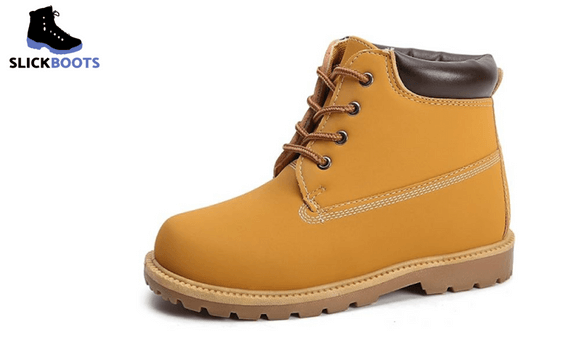 Key Features
All-day comfort
The waterproof design of the Hawkwell Kids Classic Ankle Boot ensures your child's feet remain dry, comfy, and warm throughout the day, even when wet outside.
Grippy soles for safety
The boots have unique non-slip rubber soles that stop your child from slipping, so they're safe on all surfaces.
Padded collar
The padded collar of these boots adds to the comfort around the ankle and improves the safety of your child's feet. The cushioning effect of the collar provides solace during extended wear and offers extra support to growing feet. These boots are an excellent choice for active kids.
Toe protection
The boots are carefully designed for growing children. The boots have a unique design at the front that keeps your child's toes safe from bumps and knocks. They are durable and safe for various activities.
All-season buddy
These boots are suitable for all seasons and can be worn for both casual and formal occasions. You can wear them to different places like school, picnics, or just play outside. It is a reliable option for various activities, including hiking, walking, playing, and outdoor adventures.
Customer Reviews
These cute shoes have 4.5 Stars reviews out of 1,967 ratings, which is good enough to be sure that this is a sturdy pair. They resist water in winter or light falls but are not entirely waterproof. You can buy these stylish boots at a meager price at Amazon.
Pros
Available in toddler to young kids sizes
Beautiful colors including pink, white, grey, black, wheat, etc
Suitable for all seasons
Casual & formal wear
Good for wearing on various occasions
Cons
The glued sole may become unglued after limited use
Benefits of getting the best orthopedic work boots
Do you need help to stay comfortable and focused on the job because your feet can't seem to handle the demands of your work environment?
Here are the benefits of getting the best orthopedic work boots.
Less foot pain
These unique boots are made to help your feet feel better. They give them the proper support, which makes foot pain go away or less bothersome.
Reduced back pain
Good orthopedic work boots help your back feel better. When your feet are supported well, your whole body, including your back, can feel more comfortable.
Protection from hazardous stuff
These boots keep your feet safe if you work around things that could hurt your feet, like heavy stuff or sharp objects.
Comfort all-day
The best orthopedic work boots are designed to keep your feet cozy and comfortable, even if you're on your feet all day.
Better posture
Orthopedic work boots are like a reminder to stand up straight. They help you maintain a good posture, which is essential for your overall health.
Support for arches
Some people have arches in their feet that need extra help. The best orthopedic work boots can give your arches the support they need.
Protection for toes
If you have hurt your toes on your work, orthopedic work boots are like a medicated box that protects your injured toes and helps them heal. Wear the best orthopedic steel toe work boots to avoid injuries.
Grip and balance
Orthopedic recommended work boots are like having a buddy holding your hand while you walk. They make you feel steady and less likely to stumble.
Reduced strain on knees
Your knees will thank you for wearing these boots. They help your whole body stay aligned, which means less stress on your knees.
Less tiredness
Imagine walking on clouds – that's how comfy these boots can be. They're designed to make your work day feel better from start to finish.
Healthier feet
Wearing these medicated orthopedic boots can help prevent foot problems and keep your feet in better shape.
Remember, getting the best orthopedic work boots means caring for your feet and is a key to your overall health.
The features to look for in the best orthopedic work boots
When looking for the best orthopedic work boots, there are several essential features to consider. These features provide maximum comfort, support, and overall well-being for your feet.
Here's a detailed list of what to look for:
Arch support
Look for boots that offer excellent arch support. A contoured insole matches the natural curve of your arches and helps distribute your body weight evenly. They reduce strain on your feet.
Cushioning
Ample cushioning, especially in the midsole and footbed, is essential to absorb shock and provide comfort during long hours of standing or walking.
Orthotic-friendly insoles
Opt for custom orthopedic work boots with removable insoles. This allows you to insert custom orthotics, catering to your unique foot shape and any specific support requirements.
Wide toe box
Boots with spacious toe boxes allow your toes to move and wriggle freely inside. They prevent crowding and reduce the risk of potential foot issues like bunions.
Stability
Look for boots with a stable and supportive outsole. This can help maintain proper foot alignment and reduce the risk of pronation or supination.
Adjustability
Boots with proper fitting mechanisms like laces, straps, or fastening fit according to your foot shape and ensure a snug and supportive feel.
Ankle support
For those needing extra ankle support, boots with padded collars or higher shafts can help stabilize your ankles and prevent potential injuries.
Breathability
Good ventilation keeps your feet cool and dry. It reduces moisture buildup that can lead to discomfort and foot issues.
Durable materials
Long-lasting materials like full-grain leather and synthetic materials provide the right amount of comfort and relaxation. So, always go for sturdy material rather than cheap cost.
Toe protection
If you work in harsh conditions, you must require a pair of orthopedic work boots with composite toe or safety toe caps (steel or alloy) to protect your toes from impacts and compression.
Slip resistance
Especially for work environments with slippery surfaces, boots with slip-resistant outsoles offer better traction and help prevent workplace accidents.
Weight
While you want supportive boots, hefty boots can cause fatigue over time. Look for pairs that are lightweight and easy to accommodate.
Proper sizing
Always choose the correct size. Ill-fitting boots can destroy the benefits of their features and lead to discomfort or pain.
Certifications
If your job demands safety features, ensure the boots meet relevant safety standards such as ASTM for impact and compression resistance.
Brand reputation
Opt for brands that are known for producing quality orthopedic footwear. Research the reviews and testimonials from others who have already used that brand.
Remember that everyone's feet are different, so what works for one person might not work for another. Prioritize your comfort and needs when selecting orthopedic-recommended work boots to ensure they provide the support and relief you require during your workday.
How we chose the best orthopedic work boots
Picking the best orthopedic work boots is easy if you follow simple steps. Here's a detailed guide on how to choose the best orthopedic work boots:
Assess your foot type
The first step in finding the best orthopedic work boots is understanding your foot type. Are your feet flat, or do you have a high arch? First, identify your foot structure, which will guide you toward the proper boots, and cater to your needs.
Prioritize arch support
Look for orthopedic work boots that offer excellent arch support. This is crucial for maintaining proper foot alignment and reducing discomfort, especially if you have arch-related problems.
Seek cushioning and padding
Adequate cushioning and padding are essential for absorbing shock and providing overall comfort. Look for boots with cushioned insoles, midsoles, and collar padding to ensure a comfortable fit throughout the day.
Consider motion control
If you are struggling with stability, opt for boots with motion-control features. These features can help prevent excess foot rolling and provide a more stable gait.
Removable insoles for customization
Customization is a significant advantage in orthopedic work boots. Boots with removable insoles allow you to insert orthotic inserts tailored to your needs and comfort.
Give your toes space
Avoid cramped toes by choosing boots with a roomy toe box. A roomy toe box is essential, especially for bunions or hammertoes. It prevents pressure on the toes and allows for natural foot movement.
Quality material
Durable materials like leather provide both longevity and breathability. Your feet stay protected while also having the chance to breathe.
Slip-resistant outsoles
The outsole should provide excellent traction, primarily if you work in environments with slippery surfaces. Look for boots with slip-resistant or oil-resistant outsoles.
Ankle support options
Some jobs may require high-cut boots for maximum ankle stability. Decide whether you need high-cut boots for extra ankle support. Consider your job's demands when choosing the height of your boots.
Find the perfect fit
Comfort starts with the right fit. Ensure your boots are tight enough and tight enough. A snug yet comfortable fit is ideal.
Take a test walk
Take a short walk in the boots before making a decision. This lets you gauge their comfort and support during movement.
Brand reputation and reviews
Research reputable brands that are known for their quality orthopedic footwear. Read reviews from others with similar foot concerns to guide your choice.
Consult a specialist
If your foot issues are severe, seek advice from a podiatrist or orthopedic specialist. They can provide personalized recommendations based on your condition.
FAQs
Do orthopedic shoes make foot pain better?
Yes, orthopedic shoes can help make foot pain feel better. They're designed to support your feet in a way that can reduce pain.
Are orthopedic work boots suitable for back pain?
Yes, orthopedic shoes might also help with back pain. When your feet are supported correctly, it can affect your posture and make your back feel better.
Are orthopedic work boots only for people with foot problems?
Wearing orthopedic work boots can benefit anyone who seeks added comfort and support during long work hours. Having foot or back pain is not the criteria to get these boots.
Which orthopedic work boots are best for arch support?
Some orthopedic work boots are really good at supporting your arches. Look for ones that prioritize good arch support in their description.
Why do orthopedic steel toe work boots hurt my feet?
Orthopedic steel toe work boots might feel uncomfortable because the steel can press on your toes. Try different boots to see what feels better.
Should orthopedic work boots fit tight or loose?
Orthopedic work boots should fit comfortably. Not too tight or too loose – just right, so your feet feel supported and cozy.
Do insoles make orthopedic work boots smaller?
Putting insoles in your orthopedic work boots might make them feel a bit smaller. Make sure your boots still feel good with the extra insole.
Are orthopedic work boots bad for knees?
No, orthopedic work boots are usually designed to help with body alignment, which can benefit your knees. They are not bad for them.
Conclusion
Ending the discussion, I must say that the right pair of the best orthopedic work boots can significantly affect your overall well-being and job performance.
Work never stops, so make sure your feet also never give up. Whether you have to work over 8-12 hours, prioritize your feet' comfort and choose the best rides as you have to ride them in the long run!
You may also be interested in: