Paramedics usually find themselves navigating through various tricky surfaces where accidents can happen. As an EMT [Emergency Medical Technician], your boots are essential to your safety gear. The best work boots for paramedics provide support and protection. They reduce fatigue and improve your foot endurance time in suffocating situations so that you can work efficiently regardless of the terrain or challenging environments in which you operate.
However, finding reliable EMS [emergency medical service] boots is not always easy. That's why, in this article, SlickBoots have conducted thorough research to provide in-depth reviews and a buyer's guide to help you select the best work boots for EMs and EMTs, paramedics, and flight nurses. Additionally, I've ensured that these boots are available in both men's and women's alternatives, catering to the preferences of all EMS professionals.
What are the Best Boots for Paramedics and EMTs Overall in 2023? Top 10 Choices!
In 2023, emergency medical services continue to demand the unwavering dedication and commitment of paramedics, EMTs, and flight nurses. Every piece of equipment plays a vital role in lifesaving's high-pressure, unpredictable realm. And when it comes to footwear, the significance is no different.
As an EMS specialist, your boots are more than just an accessory; they are a critical part of your gear. Whether navigating challenging terrains, responding to diverse environmental challenges, or standing for extended periods, your choice of EMS boots can significantly impact your performance.
I have found the 10 best work boots for EMS or paramedics equipped with safety materials and properties like compression-molded midsoles that provide the essential shock absorption needed to safeguard joints when working on challenging terrains.
Check out these reliable shoe options, and you will definitely find the one made for you!
1. Under Armour Men's Valsetz military and tactical boots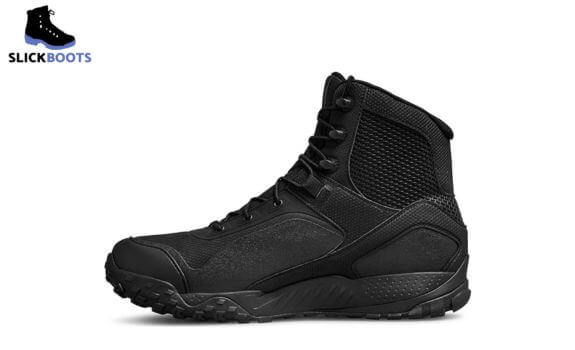 Specifications
Material: Textile and Synthetic
Origin: Imported
Sole: Rubber sole
Shaft Height: Approximately 6.75 inches from the arch
Boot Opening: Approximately 10 inches around
Sole Height: Approximately 1.5 inches
Features
Perfect for outdoor activities
Suitable as work boots, tactical boots, hunting, hiking, and construction
UA ClutchFit ankle support system for added support
Thermoplastic polyurethane (TPU) toe cap for enhanced protection
Welded polyurethane (PU) film for abrasion resistance
Antimicrobial "Ortholite" liners for moisture-wicking and freshness
EVA cushioned footbeds for shock absorption, reducing foot and joint fatigue
Exquisite ankle support to prevent ankle injuries
Rubber outsoles for excellent traction on slippery surfaces
TPU toe caps for added protection in the toe box area
Pros
100% comfortable
Lightweight
Mesh upper remains durable and breathable for superior comfort
Rubber outsole offers good gripping on all surfaces
Speed up lacing shanks
Secure fit design
Easy on/off
Best ankle boots at an affordable price
Cons
Size issue – order 1 size bigger than your normal
Not completely waterproof
2. Men's Tactical side zip Military boots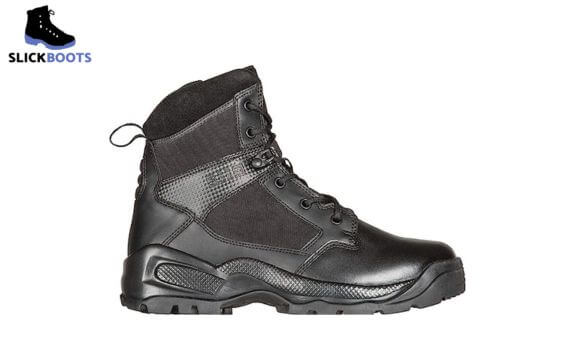 Specifications
Origin: Imported
Lining: Nylon lining
Closure: Zipper closure
Features
Full-length dual Ortholite footbed with heel for enhanced comfort and flexibility
Ortholite Achilles cuff for extra comfort
Shock relief properties
Strobel construction with lighter-weight upper construction
Slip- and oil-resistant outsole
Highly resilient Nylon upper
Antibacterial, moisture-wicking lining kept away odors
Side zipper for easy on/off
Rugged suede toe for added protection
Suitable for various demanding tasks, including security and outdoor activities.
Pros
The combination of features, such as the extra comfy footbed, shock mitigation system, and slip-resistant outsole, ensures that these boots are up to the challenge in various environments.
Lightweight
They come in a wide range of sizes to accommodate different wearers, and the side zipper adds convenience to the boot's design.
Comfortable and supportive
Waterproof
Nice looking with all dress codes and jeans styles
3. Merrell Mens Moab Tactical Boots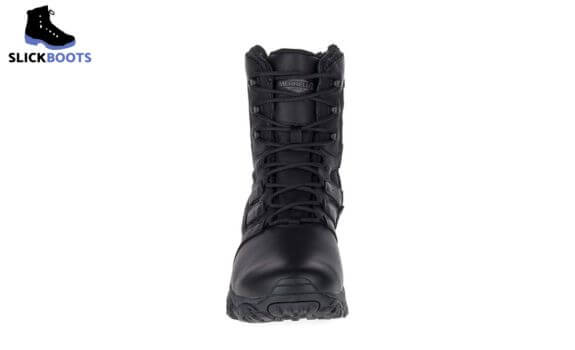 Specifications
Materials: Fabric, Leather, Ripstop
Lining: Mesh lining
Closure: Lace-Up closure
Upper Material: Waterproof PU-coated leather and ripstop textile
Ankle Support: Rubberized mesh ankle upper for support and enhanced durability
Convenience: Heavy-duty YKK medial zipper for easy on and off
Debris Protection: Bellows tongue keeps out debris
Features
100% waterproof with Dry membrane
Lightweight design
VIBRAM outsole for superior grip on various surfaces
Breathable design with moisture-wicking properties to keep feet dry
Helps prevent odor and athlete's foot
Suitable for wet summer streets or snowy conditions
Provides all-day comfort, making it ideal for long shifts
The Merrell Men's Moab Tactical boots combine the comfort and durability of hiking boots with tactical functionality, making them a reliable choice for EMS providers and anyone seeking comfortable, waterproof, and versatile footwear for challenging conditions.
Pros
Side-zip for easy entry and exit
Sturdy pair built for the most demanding environments
Breathable mesh
Good traction soles for any tough outdoors
Perfectly long ankle design to make you safe and give ankle support
No break-in time; comfortable right out of the box
Durable pair with longer life of working
Insulated shoes; perfectly waterproof
Perfect for all seasons
Cons
May have slightly reduced traction on ice due to the Vibram outsole nature
4. Bates Men's Ultralite tactical sport side zip Military boot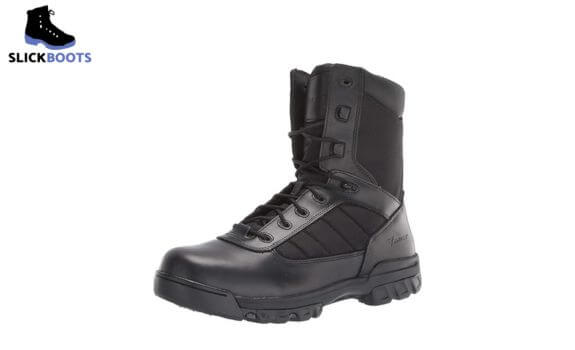 Specifications
Sole: Rubber sole
Shaft Height: Approximately 8 inches from the arch
Side Zipper: YKK side zipper for quick on/off
Outsole: Slip-resistant rubber outsole
Upper Material: Durable leather and performance nylon
Features
Crafted from high-quality leather and nylon for exceptional durability
Lightweight cement construction reduces overall weight for enhanced agility
Removable full-cushion EVA footbed provides superior comfort and can be replaced with custom orthotics
Moisture-wicking, breathable mesh lining keeps feet dry and cool during extended wear
A padded tongue and collar offer a secure fit and prevent dirt and debris from entering
Safety toe at the front for added protection against impacts and falling objects
Midsole and outsole are designed for stability, shock absorption, and slip resistance
Suitable for quick adjustments with both a side zipper and laces
Pros
Extremely lightweight, perfect for long runs or daily walks
Convenient side zipper for easy wear
Supportive around the ankles
Padded insoles with extra comfort
Provides relief from impact and torsional stress, reducing foot and joint fatigue
Suitable for uneven terrains and gravel roads
Breathable boots with durable construction
Available in both Men's and Women's versions
Affordable price
Removable full-cushion EVA footbed allows for customization with orthotic insoles
5. EMT boots men's Smith & Wesson Breach 2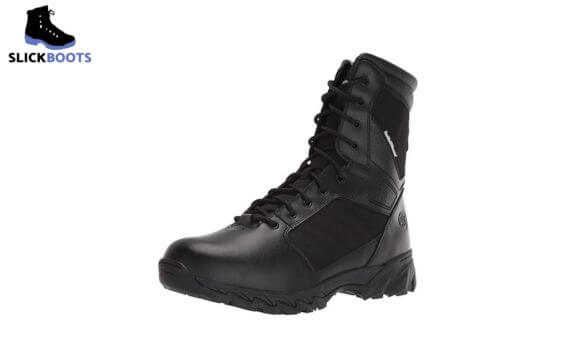 Specifications
Material: Leather/nylon upper for added protection and comfort
YKK side zipper: for easy on and off with a hook and loop tab-stay closure
PU Collar: for easy cleaning
Foam-padded collar and tongue: for protection and increased breathability
Features
EVA Midsole for lightweight comfort and cradled support
Steel shank for superior support
Board-lasted construction for torsional rigidity, reducing foot fatigue during long work shifts
Slip-resistant, non-marking rubber outsole
Super comfortable and very durable
Pros
High-quality construction at a budget-friendly price
Gusseted tongue to keep dirt and debris out
Good pair for the price
Extremely comfortable
6. Under Armour Men's Stellar Military and Tactical Boot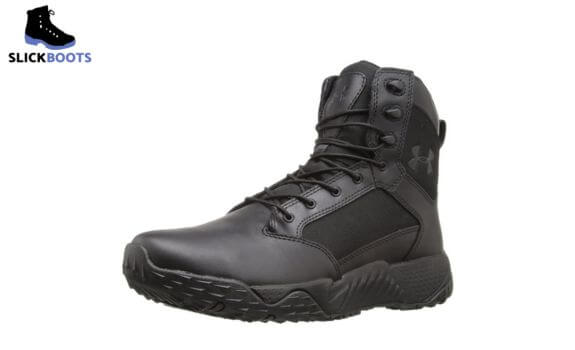 Specifications
Material: 100% Leather, Textile
Origin: Imported
Sole: Rubber sole
Shaft Height: Ankle-high from arch
Features
DWR (Durable Water Repellent) treated Leather & nylon textile upper
Polishable toe
Quick-dry minimalist design
Anti-odor properties to prevent unpleasant odors
Molded EVA midsole with reinforced TPU shank for protection & support
Low-profile rubber lug sole
Pros
100% waterproof
EMT boots men's provide proper ankle support
Provide good traction on the muddy surface
Non-slippery outsole
Easy to clean
Trustworthy in comfort and ruggedness
Good boot if you have to chase someone
Does not tighten or hurt the top of the foot
Cons
No steel or composite toes make them less safe in construction sites or places filled with heavy objects
7. Maelstrom Tactical Combat Boots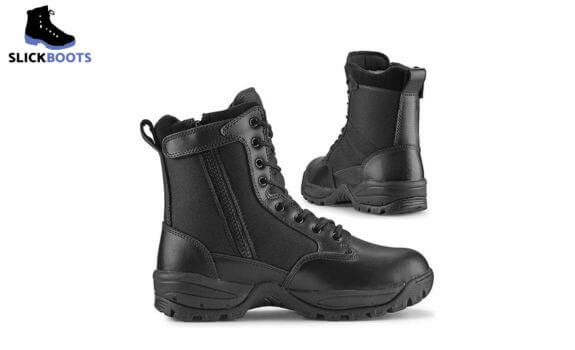 Specifications
Material: Textile and Leather
Sole: Man-made Rubber outsole
Shaft measurement: 8″ from arch
Boots' upper: suede and 800D nylon upper
Features
Moisture management system, breathable mesh, and antibacterial lining for freshness
Removable high-performance cushioned insert for shock absorption on hard surfaces
Full-grain leather, breathable air mesh, and suede fabric for comfort and protection
Highly treaded outsole for optimal traction and stability on various terrains
The midsole features a composite shank for enhanced support and stability, suitable for strenuous activities
Heavy-duty side zipper design for immediate access to the boot interior
Velcro strap to halt zip from opening
Pros
Available in Men's and Women's sizes
Sturdy lace system
100% comfortable and waterproof
Athletic cemented construction for maximum durability
Lightweight, shock-absorbing midsole for comfort and support
Minimal break-in time for immediate use in challenging terrains
Moisture-wicking lining for dry, fresh, and odor-free feet
Designed to combat foot fatigue and provide flexibility
Extremely affordable option under $70 [at the time of review]
8. Bates Men's Safety Boots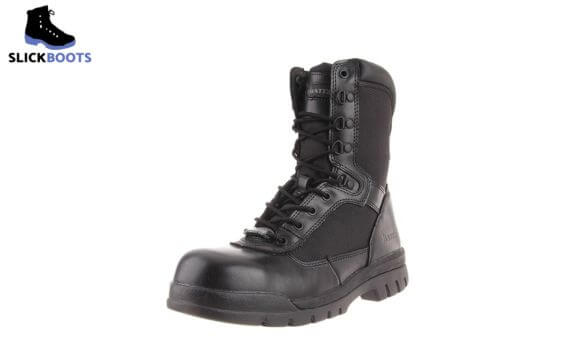 Specifications
Material: 60% Leather, 40% Nylon
Sole: Rubber sole
Shaft Height: Approximately 8 inches from the arch
Insulation: 200 grams of Thinsulate insulation for warmth
Upper Material: Durable and easy-to-clean leather and nylon
Traction: Slip-resistant rubber outsole for maximum grip
Construction: Lightweight cement construction
Features
Steel toe for maximum toe protection
200 grams of 3M Thinsulate insulation for warmth in winter temperatures
Slip-resistant rubber outsole for maximum traction, reducing the risk of slips and falls
Compression-molded midsoles for shock absorption, reducing the impact on joints during use
Full-cushion EVA footbeds for excellent cushioning, enhancing comfort during long workdays
Lightweight cement construction for a comfortable and flexible fit
Pros
The side zipper is a lifesaver when you have been in the boots all day long
Good looking military boots
The padded ankles are comfortable and flexible and give your ankles support
Best to walk on concrete
Less break-in time; maximum 3 days
They're warm enough to tromp through the snow
Durable tread that lasts, leather capable of a high shine, and resistant to scuffing from contact with obstacles.
Cons
Boots don't have much ventilation
9. Rocky Alpha force heavy duty EMS boots with zipper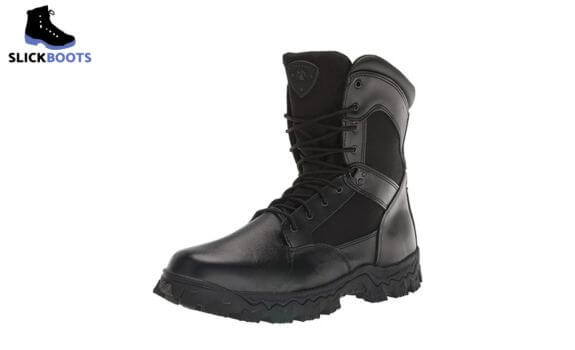 Specifications
Material: 100% Leather and Imported
Sole: Rubber sole
Shaft Height: Approximately 8 inches from the arch
Construction: Full grain water-resistant leather and nylon
Features
Waterproof construction to keep feet dry in wet conditions
Slip and oil-resistant outsoles for excellent traction on challenging surfaces
Non-metallic stabilizer for added support
Side zipper for easy on and off
Cushioned footbeds for impact absorption on hard surfaces
Moisture-wicking nylon to keep feet dry and odor-free
Pros
Lightweight
Full-grain water-resistant material
Great for all seasons
Sturdy leather stood up to the sharpest of rocks
The tread is extraordinarily sticky and great when side stepping on a steep path
Cons
Narrow in-between the heel and ball of the foot
10. Men's Speed Shield best work boots for EMT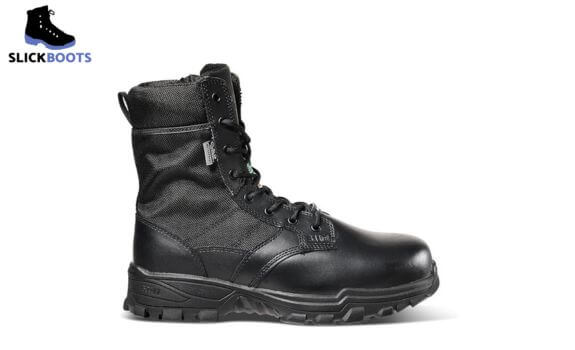 Specifications
Materials: Leather and Textile
Origin: Imported
Sole: Rubber sole
Shaft Height: More than 8 inches from the arch
Features
Quick-drying waterproof side panels
OrthoLite Imperial footbed for comfort
Puncture-resistant panel for superior protection
Odor-resistant fabric for freshness
Shock-mitigating design for enhanced support
Heavy-duty forefoot lugs
Innovative fence-climbing toe
Oil and slip-resistant multi-terrain tread for reliable traction
Safety toe caps for protection against crushing
Ortholite footbeds for cushioning
Antimicrobial linings for moisture control and ventilation in hot and humid conditions
Pros
Perfectly fit
True to size
Superb ankle support
Full-grain waterproof leather for durability and keeping feet dry
Good flexibility
Harsh weather-resistant
Slip-resistant outsoles for flexibility and traction on slippery surfaces
Cons
Need some extra insoles for better cushioning
What are the best boots for Paramedics and EMTs for women? Top 5 choices!
I know time is money, and finding a good EMT boots women's pair is like finding a needle in a haystack- a time-consuming task. So, I am here to solve your problem as I have selected the 5 best work boots for paramedics, especially for women and listed them out here with their specifications, Features, Pros, and cons.
When I say they are the best; It means, they got overall satisfying reviews from all occupation fellas.
1. Bates Women's Gx-8 EMS boots with zipper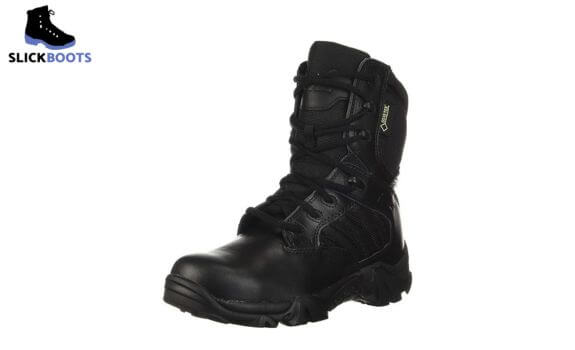 Specifications
Material: 100% Leather
Sole: Rubber sole
Shaft Height: Approximately 7.25 inches from the arch
Features
Waterproof full grain leather and performance nylon upper with protective panels
Removable cushioned insert for comfort
Lightweight cushioned EVA midsole for support
Slip-resistant rubber outsole with deep lugs for traction
Durable outsole for long-lasting performance
YKK side zipper for quick and easy on/off
Breathable waterproof GORE-TEX membrane with moisture-wicking lining
GORE-TEX membrane for warmth and dryness
Suitable for a variety of environments, including pavement and offices
Designed for comfort and durability, making them suitable for combat-support and service-support roles
Bates' Wolverine Warrior Leather for repelling oil and stains
Pros
Most comfortable and durable pair; best for Military training or firefighters.
Great quality for the price
Handy zipper
Proper fit, no need to order size big
Perfect ankle support
Cons
It gets creased if you flex them everyday
2. Under Armour EMT boots women's Stryker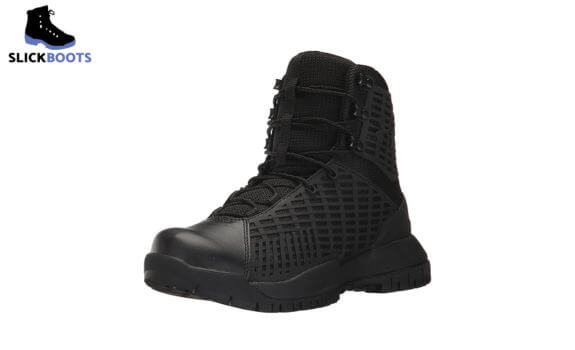 Specifications
Material: 100% Synthetic
Sole: Rubber
Height: 6 inches
Weight: 19.56 oz.
Features
High abrasion textile upper with cast PU structure for lasting defense.
Recessed lace guards to minimize drag
External TPU heel counter for added structure, support, and interior comfort
Molded soft collar for enhanced comfort
Polishable full grain toe for a professional appearance
Charged Cushioning puck under the heel for responsive comfort
High traction lug pattern for for superior ground contact.
Pros
Looks stunning with extreme comfort
Unique design
Soft around the entire foot
Extremely lightweight, which is suitable for longer walks
The loop on the back is super helpful, and I like that they have the little flexible section on the top.
Suitable for Police gear
Perfect fit
No break in time needed
3. Reebok WP women's best boots for EMS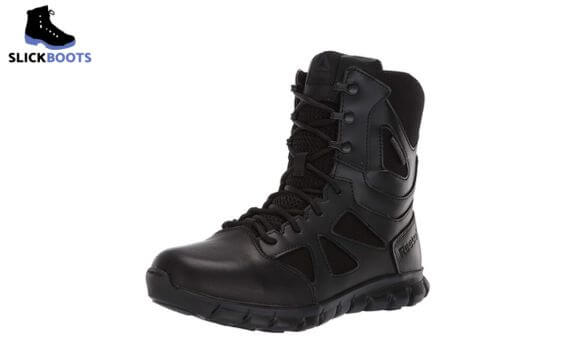 Specifications
Material: Ballistic Nylon Mesh
Footbed: MemoryTech Massaging
Midsole: Sublite foam for lightweight cushioning
Features
Targeted rubber on the outsole for traction and durability
Foam footbed adapts to your feet for added comfort during long shifts.
Constructed with a combination of leather and ballistic nylon for durability.
Moisture-wicking properties keep your feet dry and odor-free despite not being completely waterproof.
Full-foot flex grooves enhance mobility with every step.
Sublite midsole provides lightweight cushioning and good support.
Offers ultimate flexibility and comfort for long workdays.
Pros
Lightweight design, making it feel more like a shoe than a traditional boot
Moisture-wicking properties help maintain dry and odor-free feet.
Exceptional comfort
Suitable for mobility and flexibility with full-foot flex grooves.
Durable construction
Ideal for long shifts and demanding work environments.
Cons
There is a minor sizing difference from casual. Order half-size big.
Take some break in time
4. Thorogood GEN-FlexTactical EMS boots with zipper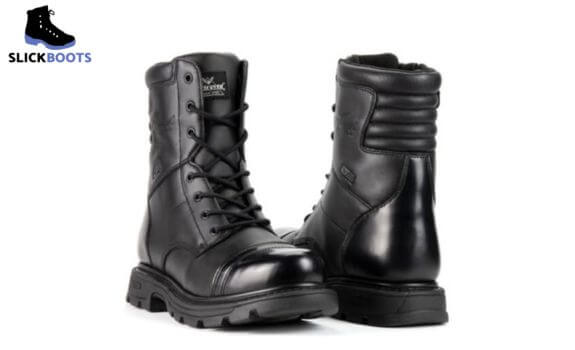 Specifications
Material: 100% Leather
Origin: Made in the USA and Imported
Sole Material: Dual-Density Rubber Outsoles with superior traction and flexibility, meeting ASTM F2813 Slip Test Standards
Shaft Height: 8 Inches
Features
Features a high-shine polished toe cap and heel counter which is ideal for uniform dress boots for both women and men
Goodyear Storm Welt Construction for superior wear resistance and moisture seal between upper and midsole
Dual-density rubber outsoles offer superior flexibility, impact absorption, and traction on various surfaces.
Removable footbed ensures comfort and shock absorption.
Composite shank construction provides strength and flexibility.
Pros
A testament to quality and craftsmanship.
Ideal for maintaining a professional appearance in uniform.
Provides long-lasting comfort right out of the box.
Multi-directional lugs and slip-resistant rubber outsoles offer excellent grip.
Goodyear Storm Welt and composite shank for long-lasting wear.
Suitable for various jobs, from law enforcement to EMTs, making them perfect for demanding jobs.
Cons
Less breathable
Shoe tongue is uncomfortable for some shoe shapes
5. 5.11 Women's Tactical Boot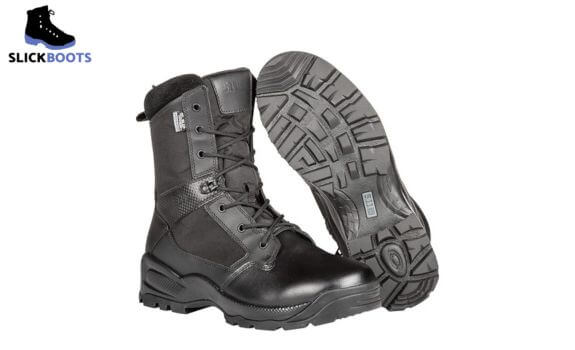 Specifications
Upper Material: Rugged suede toe and 840D nylon upper
Footbed Material: Dual durometer Ortholite
Outsole Material: Slip and oil-resistant rubber
Features
Full-length Ortholite footbed for enhanced comfort
Achilles heel flex zone for increased flexibility
Shock absorption properties
Lighter weight upper
Airflow breathable tongue construction
Ortholite Achilles cuff for added comfort
Moisture-wicking lining to keep feet cool in hot weather
Waterproof design to keep feet dry
Lightweight construction for a sneaker-like feel
Slip and oil-resistant outsole for sturdy footing
Suitable for patrol, missions, and duty boots
Pros
Lightweight and comfortable for long shifts.
Provides excellent protection against various hazards.
Waterproof and breathable, suitable for different weather conditions.
Easy to put on and take off with the smooth-running side zipper.
Knife pocket adds convenience for professionals.
Meets safety standards, making them ideal for safety-conscious environments.
Suitable for EMS professionals looking for quality within their boot allowance budgets.
Fits within most EMS boot allowance budgets
Cons
Need extra insoles for good comfort
Editor's Recommendation: What are the Best Work Boots for Paramedics and EMTs?
Among the best work boots for paramedics, we have discussed men's and women's options separately. They are all of good repute. But if I have to choose one, I'll go for the Men's Tactical Side Zip Military Boots and the Reebok Women's WP Boots for EMS – as they stand out for their unique attributes.
The Men's Tactical boots, with their side zip convenience, offer a blend of durability and comfort, making them an excellent choice for the job's demands. On the other hand, the Reebok WP boots designed for women cater to the specific needs of female paramedics with a lightweight design and moisture-wicking properties.
In my recommendation, these boots excel not only in comfort and durability but also as versatile companions for the varied and often challenging job requirements, and they complement the professional uniform seamlessly. Both pairs embody the essence of reliable and performance-oriented footwear for first responders.
What are the Most Comfortable Work Boots for Paramedics and EMTs?
Regarding the demanding roles of paramedics and EMTs, comfortable and supportive slip on ems boots are an absolute necessity as they have their own emt boot requirements. These professionals have to work long hours in unpredictable and physically taxing environments.
Fortunately, work boots are designed with their well-being in mind, ensuring that their feet, ankles, and joints remain protected, no matter how long the shift.
For Men: Maelstrom Tactical Combat Boots – These boots are a top pick for male paramedics and EMTs. They are exceptionally comfortable and provide excellent support, even during extended shifts. Maelstrom Tactical Combat Boots are designed to meet their needs and prevent foot, ankle, and joint discomfort.
For Women: Under Armour Women's Stryker Military and Tactical Boot – Female paramedics and EMTs can rely on the Under Armour Women's Stryker for unmatched comfort. These boots are meticulously crafted to ensure the well-being of their feet and joints, making them the perfect choice for long hours of dedicated service.
Both boot options prioritize comfort, support, and durability, ensuring that paramedics and EMTs can perform at their best without the worry of discomfort or injury, whether on their feet for hours or an entire day.
Buyer's Guide: How can I Test the Best Work Boots for Paramedics and EMTs?
Testing the best work boots for paramedics and EMTs ensures you get the right pair. Here's a simple and concise buyer's guide to help you test these boots:
Wear the boots and walk around to check for comfort. Look for cushioning, arch support, and an excellent fit to ensure you'll be comfortable during long shifts.
Examine the toe area for reinforcement (steel toe) to protect against heavy objects. Make sure the boots provide ankle support to prevent injuries.
Check the sole's grip on various surfaces. The boots should offer good traction to prevent slips and falls during emergencies.
Inspect the build quality and materials. High-quality work boots are durable and can withstand rough conditions.
If waterproofing is essential, pour some water on the boots to see if it beads up and doesn't seep through.
If you work with hazardous materials, ensure the boots are chemical-resistant. Check for appropriate certifications.
Consider the weight of the boots, especially if you need to move quickly. Lightweight options can reduce fatigue.
Ensure you choose the right size and check for pressure points or discomfort. Boots that fit well are crucial for comfort and safety.
Research reputable brands and read reviews from other paramedics and EMTs to gauge the boots' performance and quality.
Ensure the boots meet safety and health regulations in your workplace.
By following these simple tests, you can select the best work boots that meet the specific needs of paramedics and EMTs, providing comfort, protection, and durability during critical and demanding situations.
What are the important things to look in best work boots for Paramedics and EMTs?
When selecting the best work boots for paramedics and EMTs, it's crucial to consider various factors and properties to ensure they fit emt boot requirements.
Here are important properties you must look for while purchasing safety boots.
Steel or composite safety toe caps protect falling objects and potential crush injuries.
Ample cushioning, such as EVA or memory foam insoles, for comfort during long shifts.
Proper arch support reduces foot fatigue and maintains good posture.
Non-slip outsoles with excellent traction to prevent slips and falls, especially in wet or hazardous conditions.
Water-resistant/waterproof materials to keep your feet dry and comfortable in all weather conditions.
High-quality materials (leather, synthetic, or a combination) that can withstand rough terrain and the rigors of emergency response.
Lightweight materials and design to reduce fatigue and enhance mobility during fast-paced operations.
Resistance to chemicals and unsafe substances encountered in emergency situations.
Materials that are easy to clean and maintain, as paramedics and EMTs need to keep their boots in good condition.
Breathable linings and ventilation to prevent moisture buildup and maintain foot comfort.
Shock-absorbing midsoles that reduce the impact on joints and provide added comfort.
EH-rated boots protect against electrical hazards and keep workers safe.
Boots that offer ankle support to reduce the risk of injuries during physically demanding tasks.
Proper sizing and an excellent fit to prevent discomfort and blisters.
Choose a design that best suits your foot shape and job site.
What are the advantages of wearing paramedics and EMT work boots?
Paramedics and EMT work boots have several benefits. These safety arsenals help keep you safe, comfortable, and productive while you do your important and challenging jobs.
Let's see the detailed benefits.
1. Extra Protective
Work boots are made to protect your feet and knees better than other shoes. They usually have sturdier toe caps, like steel toes, to protect your feet from heavy objects, sharp objects, and possible accidents.
2. Provide Stability
Safety work boots give you stability, which is very important for EMTs and paramedics who have to move quickly in places that aren't always safe. These boots don't let you slip, trip, or fall because they give you a good grip and ankle support.
3. Longer lifespan
Work boots are made to last through the rough conditions of the job. They are made of rigid materials that can withstand weather, rough terrain, and the wear and tear of emergencies. So, they live longer than ordinary shoes we wear every day.
4. Coziness for comfort
Best work boots for paramedics are made to be comfortable. They have cushioning, hip support, and shock-absorbing features that help EMTs and paramedics focus on patient care during long shifts and keep their feet comfy to avoid getting tired.
5. Protection against water
A lot of slip on EMS boots come with elements that keep water out. This helps paramedics keep their feet dry and relaxed in all kinds of weather.
6. Resistant to chemicals
Best EMT boot requirements include safety insulations and resistance to chemicals and other dangerous substances. So, pick one with these features. This gives EMTs and paramedics an extra layer of safety when working in places where they might come across harmful materials.
7. Easy to care
Paramedic boots are made to be easy to clean and maintain, so workers can keep their shoes in good shape without putting in a lot of effort.
8. Professional designs
Work boots help EMTs and rescuers look more professional. As part of their uniform, they give off an aura of power and agility and help workers build trust from folks in an emergency.
Paramedic and EMT work boots are essential for these professionals to do their jobs safely and successfully. In a high-stress emergency, where the safety of both the patients and the first rescuers is the most important thing, these foot buddies provide protection and comfort and last a long time.
How can I clean and maintain the best work boots for EMTs and Paramedics?
Keep your working shoes clean and hygenic to ensure they remain in good condition and provide the necessary protection for EMTs and paramedics. Here's a simple guide on how to clean and maintain your work boots.
Materials You'll Need:
Soft brush or cloth
Mild soap or boot cleaner
Warm water
Leather conditioner
Waterproofing spray
Step-by-Step Guide:
1. Remove extra dirt
Tap your boots together to remove any loose dirt or debris before cleaning. Use a soft brush or cloth to remove as much dirt as possible.
2. Prepare a cleaning solution
Mix a small amount of mild soap or specialized boot cleaner with warm water. Avoid using harsh chemicals as they can damage the materials.
3. Clean the boots
Dip a soft cloth or brush into the soapy water and gently scrub the surface of your boots. Pay extra attention to stained and dirty areas. Be gentle, especially if your boots are made of leather or have sensitive materials.
4. Rinse thoroughly
Use a damp cloth to remove the soap or boot cleaner residues to avoid any soap residue that can attract more dirt.
5. Dry properly
Air dry your boots at room temperature. Do not expose them to direct sunlight or heat sources like radiators or hair dryers, as this can damage the materials. Stuff the boots with newspaper to help absorb moisture from the inside.
6. Condition
If your boots are made of leather, apply a good leather conditioner to keep the leather supple. This trick will save your boots from drying out and cracking.
7. Waterproof (if applicable)
If your boots aren't waterproof, use a waterproofing spray to protect them from moisture and water in damp conditions. This is particularly important for paramedics who work in all weather conditions.
8. Regular inspection
Check your boots for any signs of damage or wear from time to time, such as loose stitching or sole separation. If there is any, manage that to prolong the life of your boots.
Remember that proper cleaning and maintenance extends the lifespan of your work boots, and continue to provide the support and protection you need as an EMT or paramedic.
FAQs
Do paramedics wear boots?
Yes, paramedics often wear boots as part of their uniform. Boots help protect their feet and provide good ankle support, which is essential for their demanding job. These safety boots protect them from hazardous materials and provide durability in various working conditions.
Do I need boots for EMT?
It is recommended to wear boots as an EMT. Special medico boots provide better ankle support and protection compared to regular shoes. They are designed to withstand the rigors of emergency medical response and can keep your feet safe and comfortable during long shifts.
What shoes should I get as an EMT and paramedic?
Choosing comfortable and supportive shoes is a good idea for EMTs and paramedics as they must stay on their feet all day or sometimes in severe conditions for 24 hours. Look for footwear that meets your workplace's safety requirements and is comfortable for your hardworking feet for longer shifts.
Do paramedics need steel-toe boots?
Paramedics don't always need steel-toe boots, but they can be a good choice for safety. Steel-toe boots' safety toe cap in the front protects your toes from heavy objects. If your job involves lifting or working in areas with a risk of things falling on your feet, steel-toe boots are a smart choice.
Why do paramedics wear steel-toe boots?
Paramedics wear steel-toe boots to protect their feet from injuries. These boots have a strong cap over the toes, which helps prevent accidents like heavy objects falling on their feet. Safety is crucial for paramedics, and steel-toe boots are a way to stay safe while doing their everyday tasks.
Is it mandatory for EMT and Paramedic boots to be black?
No, EMT/Paramedic boots do not have to be black. While black boots are commonly worn, there is no specific color requirement for EMT/Paramedic footwear as long as they meet safety and uniform regulations.
Wrapping Up
Paramedics are the unsung heroes who need footwear that can keep up with their challenging and often unpredictable jobs. In the long discussion until now, we know that the best work boots for paramedics must provide comfort and reliability at the forefront. The ideal pair of work boots ensures you can respond to emergencies with confidence as they offer ample support, protection, and all-day comfort.
Whether you're a paramedic yourself or looking to support the heroes in your life, investing in quality work boots is a choice that can make a world of difference in this critical profession.