Are you tired of your sweaty work boots causing foot odor or arthritis? Save your valuable time and hard-earned money as we present you with the ultimate selection of work shoes that prioritize breathability, odor control, and overall foot health. Check out these Best Work Boots for Painters!
Painters face unique challenges on the job, from slippery surfaces to potential chemical spills. However, finding the best work boots that offers both convenience and protection can be daunting. With countless options available, You must invest in the best work boots for painters that provide reliable traction and durability and keep your feet comfortable throughout long work hours!
So prepare for a more comfortable and productive painting experience with our top recommendations for painters' work boots!
Why are Professional-Grade Work Shoes Necessary for Painters?
Professional-grade painter work shoes are essential due to their unique demands and hazards. Painters spend long hours on their feet, often working in environments with slippery surfaces, chemicals, and potential falling objects. Investing in the right work shoes enhances safety and improves overall comfort and productivity. Here are several reasons why professional-grade work shoes are necessary for painters:
Slip-resistant soles
Secure and protected
Chemical resistance
Cushioning and shock absorption
Toe-safety & Arch support
Breathability
Heavy-duty construction
Reinforced stitching
Easy maintenance
As mentioned above, all the features/benefits are why you should prefer quality over your pocket! Here we recommend the top 6 best work shoes for painters with their Amazon links and prices that will not burden your foot or pocket or cause you to spend your fortune on them!
Let's dive into a more comfortable and productive painting experience with our top recommendations for painters' work boots!
Comparison Table – The Best Work Boots for Painters
Painter Shoes- A Closer Look at the Top Picks of 2023 for Professional Painters!
1) Thorogood Men's 814-4200 American Heritage Moc Toe Painter Boots!

Specifications
American Heritage moc toe boots, best for outdoors.
Rubber outsole
Poron Cushion Separable sole footbed
Shock-resistant insole
Moisture-wicking material
100% Leather
Made in the USA
Features
Chemical resistance!
Painters often handle various chemicals and solvents. These work boots for painters come with chemical-resistant materials that prevent the absorption of harmful substances and protect your feet from corrosive materials.
Get protected from occasional paint drippings!
These painter work boots feature a durable construction that helps shield your feet from accidental paint drips, ensuring your footwear stays clean and protected during painting projects.
Shape Maintainer!
Designed with a fiberglass shank construction, these work boots offer flexibility and strength to maintain their shape even under heavy duress, providing long-lasting support and comfort for painters.
Easy to wash!
With an easy-to-clean design, these work boots can be conveniently washed, allowing painters to remove any paint or debris and keep their footwear in excellent condition throughout their workday.
Customer Reviews and Scores!
Reviews for these painter boots are too good to be purchased as from the 3,227 buyers, 77% fall into happy customers who recommended these premium grade shoes for their extreme comfort and safety!

Pros
Wedge slip-resistant outsole for better flexibility and impact absorption.
Met electrical hazard safety standards.
Removable ultimate shock absorption footbed for maximum comfort and moisture-wicking.
Goodyear storm welt construction for superior wear resistance and moisture seal.
Stain-resistant.
Cons
No mention of specific waterproof or water-resistant properties.
Fitted toe is the only con, as it would be hazardous for some foot sizes to be fit.
2) Danner Men's Vicious 4.5 Inch Non-Metallic Toe Painter's Work Boots!
Specifications
100% Leather and Textile
Made in the USA
Durable, waterproof leather upper with an abrasion-resistant heel cap
GORE-TEX waterproof, breathable lining
Cushioning PU footbed
Dual-density EVA cushioning and shock-absorbing midsole
Vibram Vicious oil-and-slip-resistant outsole with a low-profile 90-heel
Features
Durable Leather Upper with Abrasion-Resistant Heel Cap!
These Painter's boots are constructed from durable and waterproof leather, ensuring long-lasting performance and protection against external elements. An abrasion-resistant heel cap adds an extra layer of defense, safeguarding the back of the foot from impacts or scrapes. In short, you can rely on the boots to withstand rough conditions and maintain their longevity, even in demanding work environments.
Dual-Density EVA Cushioning and Shock-Absorbing Midsole!
Experience enhanced comfort and support with the dual-density EVA cushioning and shock-absorbing midsole. This design provides optimal cushioning and shock absorption, effectively reducing foot fatigue throughout the day. The dual-density construction of these painter's shoes also offers increased durability on the outer edges, ensuring long-lasting performance. Whether carrying heavy loads or working on hard surfaces, these boots provide steadfast underfoot support.
GORE-TEX Waterproof, Breathable Lining!
These Painter's work boots feature a GORE-TEX waterproof lining, effectively keeping your feet dry in wet working conditions. Not only does it provide excellent waterproofing, but it also offers breathability to prevent sweat accumulation. This ensures optimal foot comfort throughout the day and reduces the risk of discomfort and potential hazards associated with wet feet.
Vibram-and-Slip-Resistant Outsole!
The Vibram Vicious outsole delivers superior traction on indoor and outdoor surfaces, minimizing the risk of slips and falls. It is particularly effective in environments where oil and slippery substances are commonly encountered, making it ideal for painters. The outsole also features a low-profile 90-degree heel, offering versatility and stability across different work settings. With this reliable outsole, you can work confidently, knowing your footing is secure.
Customer Reviews and Scores!
Reviews for these painter boots are suitable to be purchased as from the 1435 buyers, 77% of customers gave it a 5-Star review. Only a few claim that, as per price, the material could be more durable as the shoes are less breathable because of their closing design but perfect for cold, damp areas!
Pros
Hand-crafted detail to design.
Durable leather upper with abrasion-resistant heel cap.
Dual-density EVA cushioning.
Shock-absorbing midsole.
Extremely comfortable and supportive work boots
Added safety for field work and long hours.
Cons
Some customers claimed it has a Potentially higher price.
Availability may vary in specific regions or sizes.
3) Timberland PRO Men's Pitboss Steel-Toe Boots!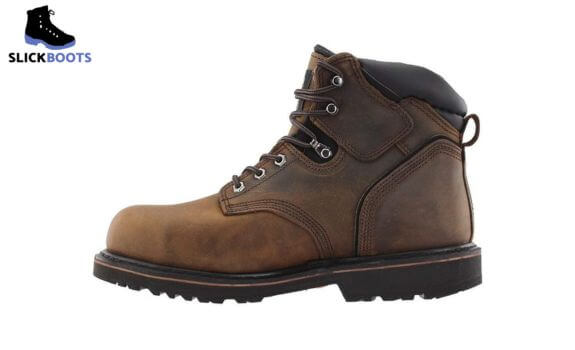 Highly Recommended Best Shoes for Painters till now!🔥
Specifications
100% Rugged nubuck leather
Heavy-duty construction
The shaft measures approximately Ankle from arch
Best guard against injuries
Wear & tear protection
PRO 24/7 Comfort
Features
Arch Support!
These painter boots with proper arch and ankle support maintain the natural alignment of the feet and minimize the risk of foot conditions such as plantar fasciitis and arthritis and provide added stability and comfort.
Breathability!
These military-grade boots are good-looking and crafted with moisture-wicking materials to keep your feet breathing and dry for maximum comfort. This feature helps prevent sweat accumulation, unpleasant odors, and fungal infections caused by working in a humid environment.
Toe Protection!
Professional-grade work boots for painters feature reinforced toe caps or steel toes to protect the feet from accidental impacts, falling objects, or heavy equipment commonly found on construction sites.
Chemical Resistance!
These work boots are constructed with materials that are resistant to chemicals and solvents, safeguarding painters' feet from harmful substances and corrosive materials encountered during painting tasks.
Customer Reviews and Scores!
Reviews for these painter boots are the best till now as 28,143 customers purchased them, and all the 100% reviews are positive regarding their material and affordability.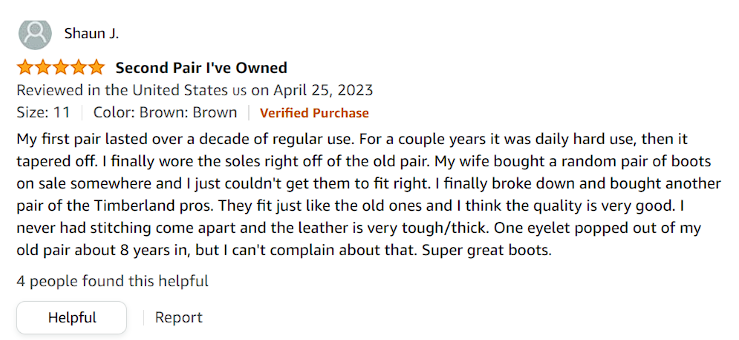 Pros
Electrical hazard protection
Roomy toe box for added comfort
Goodyear welt construction for added durability
Available in various sizes and widths for a better fit
Durable construction
Ample cushioning for all-day comfort
Slip-resistant outsole for improved traction
Cons
Some users find them slightly heavy
Break-in period is required for optimal comfort
It may not be suitable for severe hot environments
Limited color options
4) KEEN Utility Men's San Jose 6" Soft Toe Waterproof Wedge Work Boot!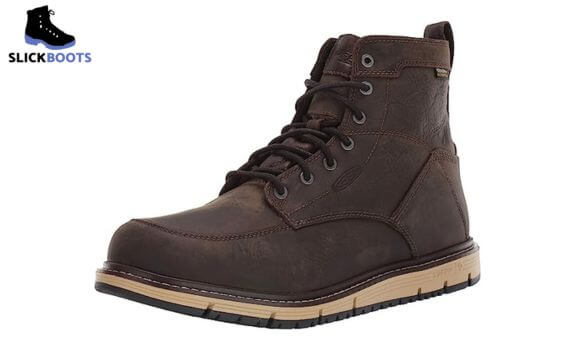 Specifications
Full grain Leather upper
Soft toe+Pedded collar
Puncture-Resistant Plate
Heel and Toe Bumpers
Meets ASTM Safety Standards
Moisture-Wicking Lining
Features
Removable Dual-Density EVA Footbed!
The removable footbed provides cushioning and arch support, allowing for customizable comfort and easy cleaning or replacement.
Goodyear Welt Construction!
The boot features a Goodyear welt construction, ensuring durability and the ability to resolve the boot when necessary.
Comfortable Wedge Sole!
The boot features a slip-resistant wedge sole, providing excellent traction on surfaces, including slippery floors or uneven terrain.
Soft Toe Design!
The work boot features a soft-toe construction, offering flexibility and lighter weight than steel-toe boots while providing ample protection against impacts and compression.
Customer Reviews and Scores!
On Amazon, people love it for its good looks, beautiful arch shape, modest high outsole, and stunning color availability. One or two reviews are about less durability, but they mentioned that they had used these Painter shoes for at least 8 months, depending on the atmosphere and situation.

Pros
Extremely comfortable
Don't allow dirt to get in
Secure laces design
Supportive design
5) Ever Boots Tank Men's Soft Toe!
Specifications
Dark brown
Full-grain leather work boots
Tough and durable Goodyear Welt construction
Non-slip rubber outsole and signature tread pattern for safety on uneven surfaces
Steel shank-in arch to alleviate pressure
Insulated mesh lining to help keep feet dry
Speed hooks for easy wear and removal
Features
Safe for Longer Hours!
The Ever Boots Tank Men's Soft Toe is engineered with a focus on safety. With slip-resistant outsoles, these shoes provide reliable traction on various surfaces, reducing the risk of slips and fall even during extended work periods.
Reinforced Stitches!
Built to last, these shoes feature reinforced stitches that enhance durability and prevent premature wear and tear. The strong stitching ensures that the shoes can withstand the rigorous demands of a painter's job, providing long-lasting performance.
Thick & Sturdy Sole!
These painter's Shoes boast a thick and sturdy sole, offering excellent shock absorption and cushioning. This feature helps reduce foot fatigue, providing painters with enhanced comfort throughout their workday.
Soft-Toe Design!
The soft-toe design of these shoes ensures a lightweight and flexible feel while providing ample protection for the toes. Painters can confidently work, knowing their feet are safeguarded against accidental impacts or falling objects.
Flexible!
The Tank Men's Soft Toe is designed to provide optimal flexibility, allowing painters to move freely and comfortably. The shoes adapt to the natural movement of the feet, supporting agility and ease of motion.
Soft Leather Collar!
The shoes have a soft leather collar that enhances comfort around the ankle area. The collar provides a cushioned and snug fit, reducing the risk of chafing or discomfort during long work hours.
Customer Reviews and Scores!
It has received a rating of 4.4⭐ out of 5 stars from 15,662 customers on Amazon.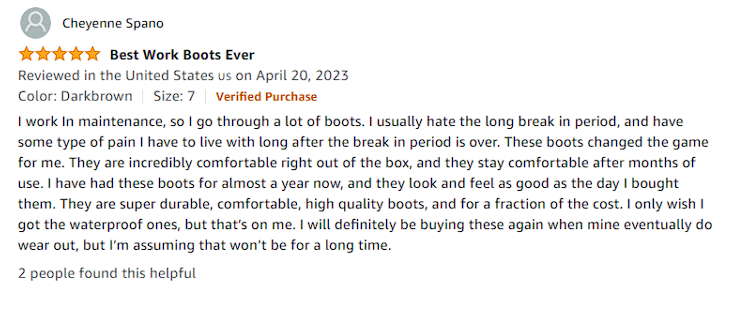 Pros
Lower in price
100% Durable
No stiffness
Ankle Safety work shoes for Painters
Stable base best for outdoors
Oil & Slip-resistant
Anti-Traction
Cons
No demerits found regarding the quality, quality, weight, or price.
6) RockRooster Waterproof Work Boots!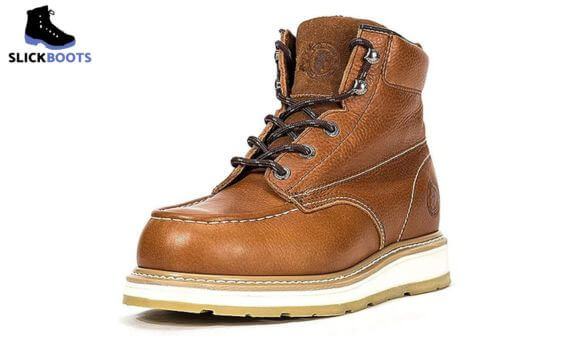 Specifications
Soft Toe
COOLMAX Lining
Vibram Outsole
Made in USA
Safety Toe EH styles meet ASTM F2892-18 EH standards
Features
Less Susceptible to Aging!
The work boots are made with high-quality materials, less prone to aging. This means they maintain their durability and performance over an extended period, offering long-lasting reliability and value.
Strong and Wear-Resistant!
These painter boots are designed to withstand the rigors of work environments. Reinforced material ensures they are strong and highly resistant to wear and tear. This feature enables the shoes to endure daily use and provide reliable protection for an extended period.
Protection!
The outsole protects against potential hazards and accidents, such as slips and falls. It offers a sturdy barrier between the feet and the ground, reducing the risk of injuries.
Vibration Absorption!
The Vibram outsole's composite rubber material and PU layer are specifically engineered to absorb vibrations. This feature helps to minimize the impact of repetitive movements or vibrations encountered during work, reducing strain on the feet and enhancing comfort.
Good Grip!
The outsole's composition and design offer excellent grip, allowing the wearer to maintain Vibram; the outsole's firm footing, even on a slippery surfacing feature, promotes stability and reduces the likelihood of accidents caused by slipping.
Vibram Outsole!
The work boots feature a Vibram outsole, a composite rubber material with a PU layer. This combination provides excellent grip, absorbs vibrations, and offers good shock absorption. The Vibram outsole ensures a firm hold on slippery surfaces, reducing the risk of accidents and providing peace of mind while working outdoors.
Customer Reviews and Scores!
Compared to the above-discussed ones, these work boots have less than 5 ⭐ reviews, like they have 57% 5 Star reviews out of 3,256 global ratings.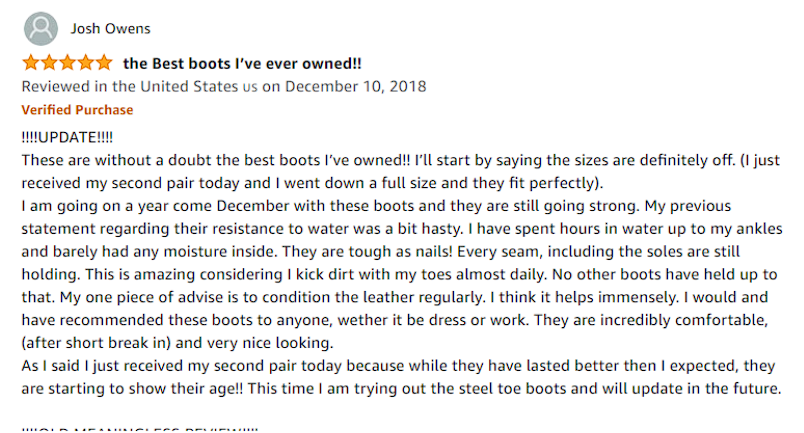 Pros
Electrical hazard protection
Sturdy construction
High cushioning
Eco-Friendly
Suitable for big feet
Cons
You might find them less beautiful, as shown in pictures.
Types of Painters' Work Boots!
There are always different shoes for various occasions for men. All you need to know about shoe types: here we'll tell you some suitable classes, especially for painting!
Rugged, durable, and cozy work boots are all you need to stay protected while doing your Painting work, regardless of the weather and paint stains.
Chukka Boots:
Simple, versatile, and reliable painter boots are a fantastic choice for workers seeking simplicity and functionality. These ankle-high leather boots feature open lacing and a round toe-box, providing ample comfort and flexibility during long painting sessions.
Some people confuse them with desert boots, but these boots offer unique appeal. With their rugged construction and thin soles, chukka boots are a reliable companion for painters in various work environments.
Steel-Toe Boots:
Unyielding Protection in harsh environments when it comes to withstanding tough work conditions, steel-toe boots reign supreme. Designed for durability and longevity, these boots offer robust toe protection and a high-quality sole that ensures a secure grip. Whether you're working with heavy equipment, climbing ladders, or navigating uneven surfaces, steel-toe boots provide the peace of mind and safety that painters need on the job.
Gumboots:
For painters who work in wet conditions, Gumboots is an excise. These tall rubber boots, known as galoshes, boast exceptional waterproofing capabilities. They shield your feet from moisture effectively, keeping them dry even in the most challenging conditions. With their distinctive style and reliable performance, gumboots are a go-to option for painters looking to maintain comfort and protection throughout their workday.
Wellingtons:
The most durable and waterproof Wellington boots stand out among closed and stain-resistant footwear. These boots offer superior protection against water and paint stains, making them an ideal choice for painters. With their tall shafts and durable rubber soles, Wellingtons keep your feet dry and comfortable in a damp or stained environment.
Moc Toe Boots:
Moc toe boots provide painters with a unique blend of style and functionality. With visible stitching around the rounded toes, these boots exude a distinct moccasin-like charm. Moc toe boots combine the water-resistant qualities and sturdy build of moccasins with the lining, sole, and ankle support of work boots. Featuring tall shafts and rubber soles, they have long been favored by outdoor workers and painters alike, offering reliable performance and a touch of timeless style.
Features to Look for in the Best Work Boots for the Painters
When selecting the Best work boots for painters, it's crucial to consider features that provide the necessary solace, protection, and durability required for the job.
Pain and discomfort may be experienced when walking or running in shoes with too-small soles at work. They can be irritating as they become warm and sticky during warm days.
Pick shoes with a thick, cushioned sole and plenty of air vents if you invest much time at an easel or in a studio with many other painters.
Here are some key features to look for in Work Boots for Painters:
Ample Cushioning
Moisture-wicking properties
Premium materials to avoid foot injuries, like Full-grain leather or Synthetic Materials known for their durability
Padded collars for ankle support
Adjustable lacing systems for overall stability
Padded insoles to reduce fatigue
EVA midsoles for shock absorption
Exquisite arch support
Breathable linings
Reinforced steel or composite toe caps to provide ample protection
Rubber or specialized tread patterns that offer excellent traction reducing the risk of slips and fall
By considering these features when selecting work boots for painters, you can ensure you have the proper footwear to meet the demands of your job and feet throughout your painting projects.
How We Select the Best Work Shoes for Painters!
Choosing the best work boots for painters requires thorough research and careful consideration of several key factors. We understand the importance of providing reliable and accurate recommendations to help painters make informed decisions. Here's an insight into our selection process for determining the best work boots for painters:
Extensive Market Research:
We conducted extensive market research to identify a wide range of work boots designed explicitly for painters. This involved exploring reputable manufacturers, famous brands, and industry-leading suppliers known for their commitment to quality and innovation. By evaluating the market landscape, we comprehensively understood the available options.
Expert Opinions and Reviews:
We consulted expert opinions, including professionals in the painting industry and experienced painters, to gain insights into their preferred work boots. Their expertise and firsthand experience provided valuable guidance in understanding painters' unique requirements and challenges. We also analyzed credible customer reviews to consider real-life experiences and opinions on various work boots.
Safety Features and Protection:
The safety of painters is our top priority. We carefully assessed work boots for their safety features, such as slip-resistant outsoles, reinforced toe caps, and compliance with relevant designed explicitly prioritized boots that provide reliable protection against potential hazards in painting environments, ensuring painters can work confidently and without compromising their well-being.
Comfort and Durability:
Considering the physically demanding nature of the painting profession, we focused on work boots prioritizing comfort and durability. Factors such as cushioning, arch support, breathability, and moisture-wicking properties were evaluated to ensure the boots can withstand long hours of use while keeping the feet comfortable, dry, and free from fatigue.
Brand Reputation and Quality:
We considered the reputation and track record of the brands behind the work boots. Established brands with a history of producing high-quality footwear were given preference. By selecting renowned brands, we aim to ensure painters invest in work boots backed by industry expertise, rigorous quality control processes, and excellent customer support.
Cost-Effectiveness and Value for Money:
We understand the importance of budget considerations. While assessing the work boots, we compared their features, quality, and performance against their price points. We sought to recommend work boots that offer the best value for money, combining affordability with durability and functionality.
FAQs
What kind of shoes should a painter wear?
Painters should wear work boots or shoes that provide safety, comfort, and durability. Opt for options with slip-resistant soles, toe protection, and chemical resistance to handle various hazards on the job.
When should you consider replacing your work shoes?
It's advisable to replace your work shoes when they show significant wear and tear, such as worn-out soles, decreased traction, or compromised structural integrity. Regularly inspect your work shoes for any damage and replace them if they no longer provide adequate protection.
How can you increase the lifespan of your work boots?
To make your work boots last longer, follow these tips:
Clean them regularly and remove any dirt or debris that could degrade the materials.
Store them properly in a dry place when not in use to prevent moisture damage.
Rotate between multiple pairs to reduce excessive wear on a single pair.
Use appropriate protective sprays or conditioners to maintain the quality of the materials.
Why do Painters need work boots?
Painters face various hazards, including slippery surfaces, falling objects, and chemical exposure. Work boots provide essential protection against these risks, with features like slip-resistant soles, toe caps, and chemical resistance, ensuring the safety and well-being of painters.
Why should painters wear work boots at all?
Work boots offer several advantages for painters, including
Enhanced security against accidents and injuries in the workplace.
Increased comfort and support during long hours on their feet.
Protection against chemical spills, electrical hazards, and falling objects.
Durability to withstand the demands of a painter's job.
How can you break in work boots quickly?
Breaking in work boots can be done by gradually wearing them for short periods, allowing your feet to adjust. Here are some additional tips:
Wear thick socks to provide cushioning and reduce friction.
Flex the boots and walk around to help loosen the materials.
Use a boot stretcher or a leather conditioner to soften the material.
Avoid rushing the process and gradually increase the duration of wear to ensure a comfortable fit.
Final Remarks: About The Best Work Boots for Painters!
Our selection process for determining the best work boots for painters involved thorough market research, expert opinions, safety considerations, comfort assessment, brand reputation analysis, and value assessment. By meticulously evaluating these factors, we aimed to provide painters with trustworthy and reliable recommendations that align with their needs, ensuring a confident and informed choice when selecting their work boots.
Hope you guys have enjoyed the journey and find this article beneficial to reach out to your Finest Fit, Best Work Boots for Painters!